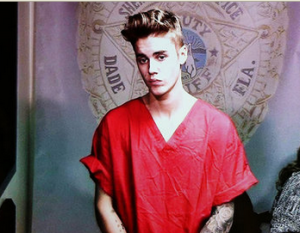 The Justin Bieber mugshots for his DUI arrest may have been the reason diva Ariana Grande wound up breaking down on the red carpet at the Grammys, it appears. Ariana said that the tweeting fun made of the junior popster and his mug shots were "so ignorant".
"It's gotten to a point where I just want him to be okay. [He is] the most visible and yet isolated human being I've ever met."
She did, however, think he needed punishment.
Meanwhile, Justin Bieber is facing major issues following his DUI arrest in Miami on Thursday with many non-'beliebers' saying they are not only disgusted by the Canadian-born pop star's behaviour with the alcohol and marijuana use, but that he should be deported.
A petition to the White House already carries 40,000 signatures.
That may be something that Ariana Grande really has to cry about.