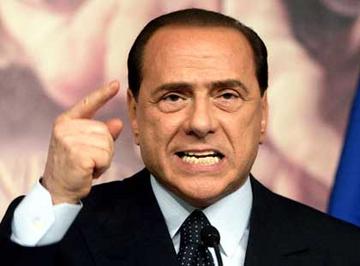 Silvio Berlusconi the colourful and never-say-die former Italian leader has been ordered to stand trial after allegedly paying for a politician to leave a rival party in a bid to bring down the governmernt of Romano Prodi in 2008.
AP report that Judge Amelia Primavera indicted Berlusconi in Naples on a corruption charge and set trial to begin in that southern city on Feb. 11. A lawyer for co-defendant Valter Lavitola, a former political party newspaper editor, confirmed Italian news reports about the indictment. Calls to the courthouse in Naples went unanswered.
[wp_ad_camp_1]
Berlusconi and Lavitola are accused of corruption for an alleged payoff to former Sen. Sergio De Gregorio to defect from the rival center-left and join Berlusconi's center-right bloc. The lawmaker's switch of allegiance helped bring down Prodi's government.
Lavitola was described by prosecutors as a go-between in the alleged corruption scheme. His lawyer, Guido Iaccarino, told Sky TG24 TV news in Naples that the judge decided a "trial is needed to determine the truth."
In a plea-bargain deal, De Gregorio was sentenced to 20 months in prison for corruption, Italian news reports said.
Berlusconi has denied corruption in the Naples case. One of his lawyers, Michele Cerabona, insisted that the facts indicate there was "no bribery." Lavitola's defense has also denied the charge.
De Gregorio, in a telephone interview with Sky, said he had told prosecutors what he knew about the alleged payment and added that he later expressed his regrets to Prodi. In collaborating with prosecutors, in "telling the truth, I lifted a weight" off my conscience, De Gregorio said.
Prosecutors investigated allegations that Berlusconi, a billionaire media mogul, paid De Gregorio 3 million euros ($4.1 million) under the table to defect to his party, helping to bring down Prodi's ruling coalition. Prodi was Berlusconi's most formidable political challenger at the time.
Earlier this month, an appeals court in Milan handed Berlusconi a two-year political ban as part of his punishment for a tax fraud conviction. Separately, Berlusconi was already facing the loss of his Senate seat because of the conviction, which was upheld by Italy's highest criminal court during the summer.
[wp_ad_camp_3]