Angelina Jolie's powerful speech to leaders in June was an inspiration to women everywhere – with some messages for any woman seeking security and advancement.
Given her powerful speech on June 11 to African Union Summit, she spoke a lot about the barbaric way in which women are treated internationally, but also outlined some key tenets that professional women (and men) could heed.
The theme of this year's summit was the "Year of Women's Empowerment and Development", and Jolie addressed the leaders on her experiences of meeting victims of sexual violence:
"They are some of the most formidable and impressive people I have ever met and they deserve better than to be left alone to suffer."
The actress was speaking in her role as
There is no greater pillar of stability than a strong, free and educated woman, and there is no more inspiring role model than a man who respects and cherishes women and champions their leadership.
Angelina Jolie's use of her star power to focus on the requirements of women in terms of health, sexual and non-sexual violence and to generally empower them has become a siren call to women both within war zones and in the West where women's rights are frequently threatened or ignored.
She talked about the "epidemic of violence" against women even in societies at peace, but her underlying message to women everywhere has been to help create a fairer world that can "champion" their leadership.
Jolie's message was delivered with passion to the African and other leaders gathered at the Congress, in her capacity as Special Envoy of the Un High Commissioner for Refugees, however her courage in dealing with her health issues combined with her passion for having women stand up for their rights alongside men is a key to understanding how women can deliver better results for themselves even in modern Western societies.
Commentators have observed that the sort of messages delivered by leading advocates like Angelina Jolie have helped inspire women to eve more in their careers and in society generally.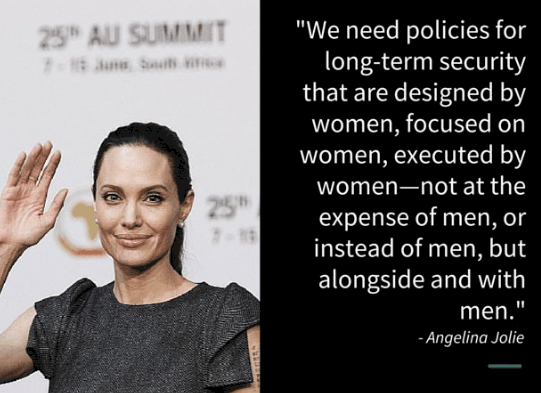 See Angelina Jolie addressing the 25th AU Summit 2015 Below
[table id=9 /]