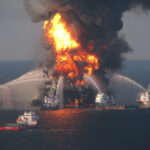 The LA Times reports that a lawyer working for the administrator responsible for reviewing claims relating to the disastrous Gulf of Mexico oil spill has resigned after claims arose that he had colected money from settlements handled by a law firm to which claims had been referred.
The lawyer, Lionel H Sutton, allegedly received payments from the New Orleans law firm.  He has been placed on leave and has resigned from the Deepwater Horizon Claims Administration, agency spokesman Nick Gagliano told The Times.
"While it is under investigation, we cannot make any statements," Gagliano said in the telephone interview.
Telephone calls made to Sutton were not returned.
The Associated Press this week reported that Sutton was mentioned in allegations that he had referred claims to a New Orleans law firm in exchange for portions of subsequent settlement payments. The lawyer allegedly filed those claims before he went to work for the agency, according to people familiar with the situation but who were not identified by the news service.
Friday's action grows out of the nation's worst environmental disaster and the subsequent legal proceedings over the cleanup and compensation.
In April 2010, the drilling rig Deepwater Horizon exploded off the Louisiana coast, killing 11 workers. About 200 million gallons of crude oil from the Macondo well a mile below the surface poured into the gulf. Before the well was capped in July, oil had floated to the coast, collecting on beaches and marshes from Louisiana to Florida, fouling businesses from fishing to tourism.
The rig had been leased by BP, the London-based oil company, which set up a $20-billion compensation fund for individuals and businesses affected by the spill. The claims fund initially was handled by lawyer Kenneth Feinberg, but Patrick Juneau took over as claims administrator after a settlement was reached last year among the various parties. That settlement is overseen by U.S. District Judge Carl Barbier in New Orleans.