The man who shot into an SUV containing black teens playing loud music returned a verdict on four of the five counts today.  The defendant, white man Michael Dunn, could not decide on the first degree murder charge but found him guilty of manslaughter.
Dunn, 47, a software developer, was charged with premeditated murder in the shooting death of Jordan Davis, 17 , last November, as well as three counts of attempted murder.
CNN reported that Judge Russell Healey announced around 4:45 p.m. that the 12 jurors had sent a note saying they'd decided on four of the five counts that Dunn faces. But they haven't unanimously reached a verdict "on count 1 or any of the lesser included offenses."
Count 1 is first-degree murder. Jurors could decide not to convict Dunn on that charge but instead find him guilty on lesser charges such as manslaughter.
After making his announcement, Healey then told the jury to continue their deliberations in hopes of a breakthrough on this crucial count.
"But it's not for want of trying to reconcile all of this," the judge said. "I think we've got some analytical people in there who are trying to do just that — trying to analyze this from every possible angle."
After these comments, the judge laid out and answered the questions the jury had submitted within half an hour of resuming its deliberations on Saturday morning.
Here's what jurors asked, and how he responded:
— "Is the defense of self-defense separate for each person in each count?" Judge: "Yes."
— "Are we determining if deadly force is justified against each person in each count?" Judge: "Yes."
— "Or, if we determine deadly force is justified against one person, is it justified against the others?" Judge: "No. Self-defense and justifiable use of deadly force applies separately to each count."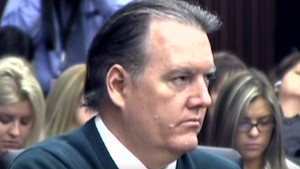 Closing arguments wrap up Dunn trial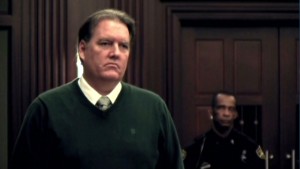 Dunn: 'It was life or death'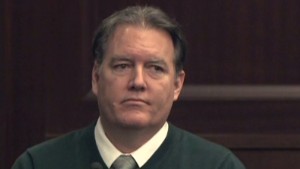 Michael Dunn: I was fighting for my life
If they still can't decide after some length of time — perhaps a few more hours or days — a hung jury on this count is possible.
Like Trayvon Martin Case
Earlier Saturday, Healey had acknowledged that the jury of four white females, two black females, four white males, an Asian female and a Hispanic male was "struggling, obviously."
It was November 23, 2012, when Michael Dunn pulled into a gas station in Jacksonville, parking next to a red SUV full of teenagers.
Loud music was coming from that car, and Dunn expressed his displeasure.
What came next is a subject of dispute. Clearly, there were words exchanged. And without doubt, Dunn ended up opening fire on the vehicle, killing Davis.
But did one of the teens flash a gun? Dunn says so, but prosecutors say that's not true — pointing to the fact the teens were unarmed. And was the defendant acting in self-defense? Again, the two sides come to opposite conclusions.
Some have compared the Dunn case to the trial of George Zimmerman in the killing of Florida teenager Trayvon Martin, which, like the current trial, had racial overtones and claims of self-defense.