3 Rob Everett
Last Year – 4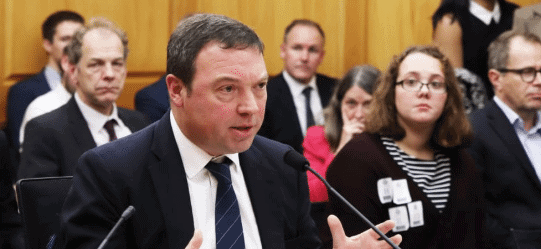 Executive of the Financial Markets Authority, has overseen the strengthening of FMA's powers since joining the agency in 2014 in the midst of a Reserve Bank crackdown on bank behaviour and cross-Tasman howlers in the banking and finance sector.
Rob Everett's role has seen him move up the rankings as banking and finance industry move centre stage.
Last year he chastised the finance sector, saying "What seems to happen in financial services is an insidious slide into 'it feels a bit tacky, but everyone else is doing it and we can't afford to be left behind'," Everett told attendees at the Financial Services Council and Workplace Savings NZ 2018 national conference"
This year he talked about the "bad things" that happen when banks aren't properly regulated.
The FMA's frustration at the ANZ bank's shenanigans over former CEO David Hisco, explaining to an INFINZ meeting "What a stupid thing for us at the regulations to have to spend four weeks nosing about and arguing with a whole bunch of people about."
Exercising wide powers that are getting wider under the current government, the FMA has undertook a review with the Reserve Bank on the NZ banking sector in the wake of the Australian scandal.
But his view of the current New Zealand scene is to adopt a more consumer-oriented approach, although he has indicated he is prepared to ruffle financial feathers when he needs to, be it the ANZ Bank or anyone further down the financial pecking order.
From the UK and starting his legal career with Allen & Overy, Rob Everett is formerly a director of regulatory consultancy Promontory Financial Group and prior to that with the Bank of America Merrill Lynch, he has significant international regulatory experience. Working in Merrill Lynch's legal department for almost10 years gave him a solid grounding in transactional and debt markets experience in Europe and the United States before being appointed head of legal/compliance for the firm's research division.
Although criticised in some quarters for his settlement of the Hanover case, returning $18 million to investors who had collectively lost $500 million through the group, it also displays an investor-focused approach and a pragmatic one as well. However, notwithstanding the pragmatism, Rob Everett's role is a powerful one that will provide significant influence on the shape of business in New Zealand.
The introduction of the Commerce Amendment Bill will add further to the Comcom's powers, permitting easier investigations of the abuse of market power in industries like retailing and petroleum sales.
The Commission's desire to be able to undertake 'market studies' is much more likely under the current administration.
Strengthened powers of the FMA following the finance company debacle of 2009 and with changes like the Financial markets Conduct Act have provided significant powers to the agency and its chief.
Back to the 2020 Power List