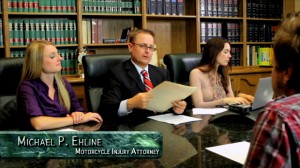 By Michael Ehline – Recently at the Pentagon there were members of the armed forces that gathered to observe the beginning of Motorcycle Safety Awareness month. This is of great importance this year in the military as recent statistics show the number of motorcycle related fatalities.
The rate of motorcycle fatalities for the year 2007 was 93 service wide and of these 25 were soldiers in the Army and this is the highest rate non-combat related deaths in the military services for soldiers not deployed to Iraq or Afghanistan.
Motorcycle Fatalities are a Major Concern
According to Addison Davis IV, the Deputy Assistant Secretary of the Army these motorcycle fatalities have become the leading concern of all the service branches.To back that up is Mary Peters the Transportation Secretary is concerned with raising awareness for riders and non-riders for safety. Peters was involved in a serious motorcycle catastrophe three years ago and claims if it was not for protective gear the spill and resulting turmoil could have turned out much differently, or even in a fatality.
Military Motorcycle Accidents
Statistics show that motorcycles only account for 2 percent of motorized vehicles on the road but they make up a staggering 10 percent of serious accidents and many ending in a fatality. It also shows that at least automobile drivers who have reported they did not see the motorcycle cause 40 percent of these motorcycle accidents and of these many involved left turns. Davis also stated that with more motorcyclists each year there should be increased focus on safety for the motorcyclist.
Importance of Riding Gear
Peters wants soldiers who are motorcycle riders to make certain that they are alert when getting on their motorcycle and also dressed in the proper gear. This is important as the numbers show that of military soldiers and their families, motorcyclists' number 100,000 in the past twelve months.
Combat Readiness Center
In information from the Combat Readiness Center at Fort Rucker Alabama during the first quarter of the fiscal year which was from October 1, 2007 to March 31, 2008 there were 20 soldiers killed in motorcycle incident and of these at least fourteen were on large and powerful bikes.
Use of Helmet
One legislator from Texas, Rep. Michael Burgess has introduced a piece of legislation to encourage helmet use for motorcyclists on the roads, as well as motorcycle safety along with awareness of other drivers to the motorcyclist. According to other reports military members are being cautioned to wear the proper gear to protect them, this includes boots, leather clothing and helmets that are department certified. They are also being advised to wear bright colors on the helmets to increase their visibility to other vehicles.
Certification and Training
Along with this training and certification is being advised to motorcyclists to ensure that their skills and reflexes in adverse weather conditions and traffic conditions are enough to help keep these soldiers who are also motorcyclists safe on the roads. Competent military discount lawyers are also Los Angeles injury lawyer at Ehline Law. You can always count on them when injured in a motor bike injury causing spinal cord damages and brain injury.