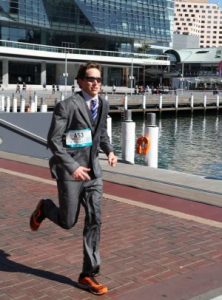 Matthew Whittaker, a Jones Day associate in the megafirm's Sydney office, shattered a record few people knew was there to shatter: running the fastest marathon in a suit.
Whittaker, 25, a regular runner, found the challenge tougher than expected.
"The first half was fine, but the last 15-20 kilometres were really, really horrible," Mr Whitaker said. "It got really heavy and restrictive and slowed me down a fair bit."
He did the run in two hours, 44 minutes and 29 seconds.
 Jones Day, one of the largest law firms in the world who also represent the 'dotard president' Donald Trump, might provide challenges, but for Matthew Whittaker few could equal what he just did around Sydney.
ReFuel with the top law news weekly that's fun to read