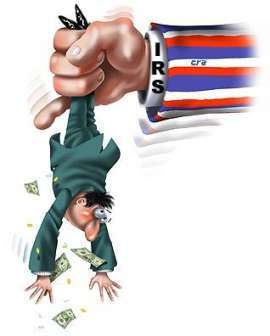 SANTA ANA – Yesterday, James L. Tolbert, 62, a Laguna Beach resident, pleaded guilty to one count of criminal contempt for violating a civil injunction that ordered him not to prepare tax returns.
[wp_ad_camp_1]
James L. Tolbert was indicted on September 21, 2011, with one count of filing a false claim, in violation of Title 18, United States Code, Section 287.  Throughout most of 2009, various schemers operated a company known as Old Quest Foundation in Fontana and De La Fuente Ramirez and Associates in Rancho Cucamonga, which sought to fraudulently obtain approximately $250 million in tax refunds from various customers by filing fraudulent IRS Forms 1099-OID.  For more information, please see "55 Indicted in Massive Federal Income Tax Fraud Scheme that Illegally Sought More Than a Quarter Billion Dollars in Tax Refunds," available at http://www.justice.gov/usao/cac/Pressroom/2011/140.html.
On September 5, 2006 U.S. District Judge R. Gary Klausner entered a permanent injunction against James L. Tolbert which prevented him from preparing income tax returns.  See "Federal Court Bars Los Angeles Man from Promoting Tax Scams and Preparing Tax Returns for Others," available at http://www.justice.gov/tax/txdv06602.htm.  According to the plea agreement in this case, despite his knowledge of that permanent injunction, Tolbert violated the injunction by preparing false OID-based tax returns for Old Quest customers in 2010, including preparing a 2008 federal income tax return filed with the IRS which claimed a fraudulent tax refund in the amount of $315,656.
As part of the plea agreement, Tolbert stipulated to enter a binding civil injunction, barring him for life from aiding or assisting in the preparation of federal or state tax returns and barring him from representing persons before the IRS.
Sentencing is scheduled for April 25, 2014, where Tolbert faces a maximum sentence of five years' imprisonment, three years of supervised release, and a $250,000 fine.
The case is being investigated by special agents with IRS Criminal Investigation. The prosecution is being handled by Assistant U.S. Attorney Charles P. Pell of the U.S. Attorney's Office for the Central District of California in Santa Ana, California. For additional information about IRS Criminal Investigation, please visit irs.gov