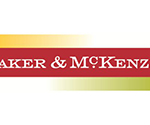 LawFuel.com 
17 April 2013 – Leading global law firm
Baker & McKenzie
is pleased to announce that Habib Al Mulla, one of the most respected and well-established law firms in the United Arab Emirates (UAE), will merge with the Firm, effective 1 July.The merged UAE entity will be known as Baker & McKenzie Habib Al Mulla, and will advise clients on local and international law across its offices in Dubai and, subject to regulatory approval, Abu Dhabi.
Baker & McKenzie has been active in the Gulf and Middle East North Africa (MENA) for over 30 years, opening an associated office in Riyadh in 1979, Cairo in 1986, Bahrain in 1998, Abu Dhabi in 2009, Istanbul in 2011, Doha in 2011 and Casablanca in 2012. With this merger, the firm now has more than 30 partners and 130 associates across the region.
Habib Al Mulla has been operating in the UAE since 1984 and is one of the country's most prominent law firms, with a team of over 40 Arabic and internationally qualified lawyers in offices in Dubai and Abu Dhabi. It is a full service firm with strong practices in dispute resolution, corporate and commercial law, banking, real estate and construction, among other areas. The firm was established by Dr Habib Al Mulla, the architect of the Financial Free Zones legal framework which led to the establishment of the Dubai International Financial Centre as the first Financial Free Zone in the UAE.
The merger enhances Baker & McKenzie's practice in the UAE and Gulf region, adding a fifth office, Dubai, to its existing offering in the Gulf. The expanded team will work closely with the firm's offices in the wider MENA region. With this addition, the Firm will have 73 offices in 45 countries, including 26 of the world's 30 largest economies.
The team will be jointly led by Dr Habib Al Mulla as chairman and co-managing partner, along with Borys Dackiw, managing partner – Gulf region.
"We have been a leading player in the Middle East for more than three decades," said Eduardo Leite, chairman of Baker & McKenzie's Executive Committee. "The combination with Habib Al Mulla cements our presence in the UAE as it once again experiences strong economic growth. The merger is emblematic of our commitment to all our offices having deep local roots, allowing us to offer clients the benefits of a global platform while helping them navigate the most complex local legal issues."
Dr Habib Al Mulla said: "The legal landscape in the UAE continues to become more sophisticated, as do client requirements. In line with our strategy for growth, the merger creates a unique law firm offering in the UAE, with extensive local capabilities, including court representation, together with global scale. A large number of our clients have requirements on a regional and global scale and our merger will present them with an opportunity to work with a single firm both at home and abroad. It has always been our focus to listen to our clients and this move is in reaction to better meeting their requirements. I wish to extend my personal thanks to the Government of the UAE for its leadership and to HH Sheikh Mohammad bin Rashid Al Maktoum for his vision, making opportunities such as this possible."
Koen Vanhaerents, chair of Baker & McKenzie's EMEA region, said: "We welcome the Habib Al Mulla team to Baker & McKenzie. We are committed to investing in high-growth markets, and the UAE has been among the fastest-growing economies in the world in recent years. GDP has more than doubled since 2006, while Dubai, the Gulf's leading financial center, has rapidly bounced back from the global financial crisis."
Borys Dackiw, managing partner, Gulf region, added: "We will be able to anchor our UAE practice around a firm with the quality and vision of Habib Al Mulla. We are pleased to have become the first global law firm to join forces with one of the leading UAE firms. Welcoming someone as prominent as Dr Habib Al Mulla as a partner at Baker & McKenzie, together with the firm's 40-plus lawyers, demonstrates our commitment to investing in the finest local legal talent."