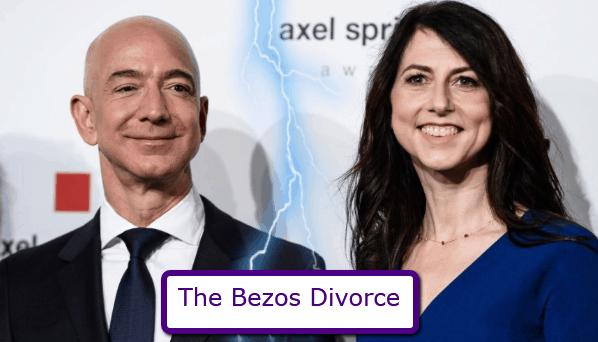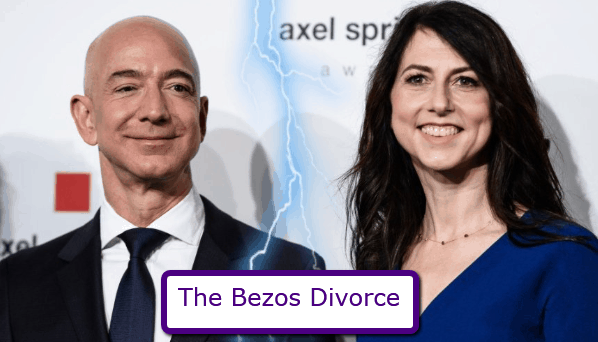 The divorce of the world's richest couple – Jeff and MacKenzie Bezos – has been PR-dressed as a breakup between close friends who fully intend to retain their close bonds, as per the announcement below.
It could well wind up as the most expensive divorce in history – making ex-wife Mackenzie Bezos the world's richest woman.
Or it could have what any divorce involving huge money can create and lead to lawsuits.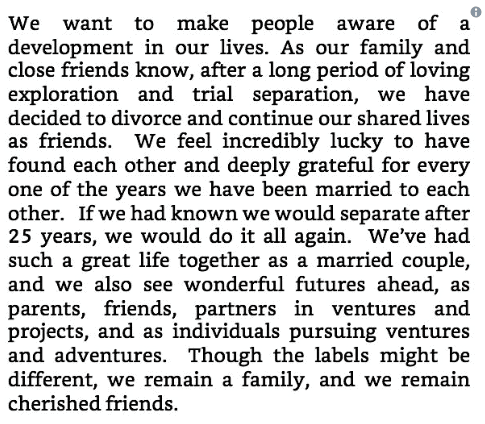 Of course there are plenty of divorces where couples remains "friends", but a divorce remains a separation of interests and . . let's be honest . . a fair amount of recrimination and blame.
MacKenzie met Jeff Bezos 25 years ago before he started Amazon and since Washington is a community property state, Mackenzie might get as much as half of his Amazon stake, a massive $65 billion in stock, based on recent share prices. Even if she got just 1% of his total net worth, it would be one of the biggest divorce payouts ever.
Although the chances are the divorce will be settled quickly and quietly, the announced intentions of this uber-rich couple with a $137 billion fortune is to make their divorce as amicable as possible, but there are several ways it could turn South.
Here are 3 to start:
Apart from the fact that Laura Wasser is a determined, feisty divorce attorney, she is also representing 'the other woman' in a proceeding that could create an atmosphere of intense, legal antagonism so far as all that 'amicable' talk is concerned.
1. The 'Mackenzie' Factor
MacKenzie Bezos is no shrinking violet "ex wife" without acumen or ability in any traditional sense. She's a smart woman- a Princeton graduate – who has worked to help build Amazon too. Her claim to the business and her husband's assets are as strong, or stronger, than many may assume.
She helped Bezos brainstorm names for the company, served as its first accountant, and even helped to ship early orders.
It is not believed that she owns Amazon shares in her own name and any share sale to settle her claim could result in a reduced influence in the company, which she may not want for the sake of the family fortune.
The fiduciary duty owed by one spouse to another means they need to avoid wasting marital resources.
Sadler said the main options facing the couple regarding Amazon stock were for Jeff Bezos to buy out his wife or for MacKenzie Bezos to retain shares.
2. A Corporate Collision
Amazon is one of the world's most successful and richest companies. Although the divorce announcement did not have any particularly significant impact on the stock price, a rocky divorce could quickly have an impact on investors – including the Bezos family.
This happened in the case of Wynn Resorts when Wynn Resorts founder Steve Wynn split from his then-wife Elaine in 2010 (for the second time) in what is reportedly one of the costliest divorce settlements ever.
It also lead to legal battles that dragged on for years, concerning not just the settlement itself, but subsequent fights and shareholder issues over how the Wynns' shares were dealt with.
In Bezos' case, they own 16 per cent of the Amazon stock and Scott Altman, a professor of law at USC Gould School of Law who specializes in family law, said that in the majority of such divorces involving stock holdings, shares are generally transferred to one party with no tax consequence. That was the case in the Wynn divorce, which split the couple's stock down the middle.
Mackenzie is entitled to half if there is no pre-nup involved, under Washington law, but things could get messy regarding how the stock is dealt with in voting and other matters.
The Wynn battles involved a stock agreement that required the two to vote jointly until Elaine Wynn filed proceedings to take control of her shares after being floated off the Wynn board.
If there is a failure to agree on the handling of 'jointly owned' stock, then there are issues that could involve multiple billions of dollars.
A complicated agreement whereby Mackenzie keeps Amazon stock and Jeff keeps voting rights.
Any dispute or argument regarding stock sales or transfers could trigger Wynn-style lawsuits that could wreck havoc on not only Amazon's stock price, but also the fortune of the now-warring couple.
3. The Pre- or Post-Nup
We don't know for sure whether there was a pre-nuptial agreement. A prenuptial agreement, if valid, would be followed even if Washington State's laws may have returned a different result.
Washington has communal property laws, which requires assets and debts obtained during the marriage to be split equally if they can't reach an agreement.
If there has been a postnuptial agreement it would also need to be followed if valid, but the whole issue of validity is open to interpretation and potential dispute.
The money is massive, but so too is emotional investment in a relationship that can lead to the 'woman scorned' attitude that may transcend even the King's ransom that makes up the Bezos divorce.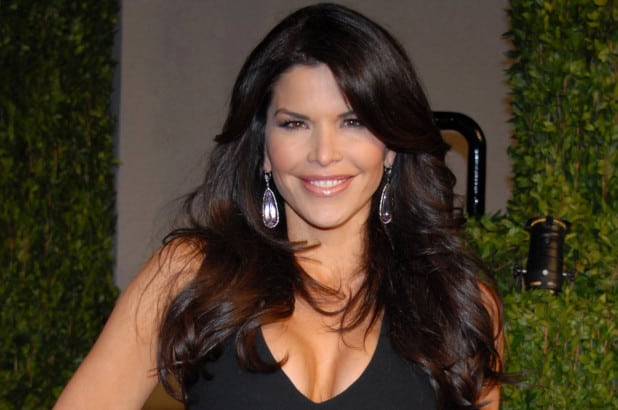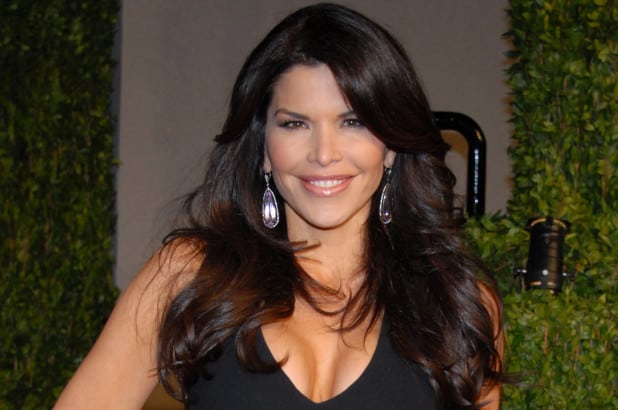 Already Bezos' girlfriend Lauren Sanchez (above), the former news anchor, producer, actor and entertainer has hired high powered attorney Laura Wasser to act on her own divorce. Wasser has acted in the divorces of celebrities like Christina Aguilera, Jennifer Garner, Kim Kardashian, Angelina Jolie and others.