Amanda Knox plans to fight the second convictioni for the murder of Meredith Kercher, with no plans to return to Italy.  The conviction "hit me like a train" she told ABC's 'Good Morning America', saying she expected more from the Italian justice system.
"They found me innocent before. How can they say that it's guilt beyond a reasonable doubt?"
An appeals court found Knox and her former boyfriend, Raffaele Sollecito, guilty of murder in the Italian city of Florence after a retrial.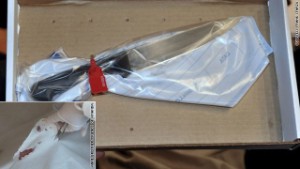 DNA expert: Science was ignored for Knox
Her attorney, Ted Simon, told CNN's "New Day" that he had been in touch with Knox and her family all day as they awaited the court's decision.
"It was terrible news," he said. "She understands more than anyone that a wrongful conviction is unjust, not just for the accused but for the victim, their family, as well as society, and she feels this very personally."
Knox's conviction has raised questions about her possible extradition to Italy to serve her 28½-year sentence, handed down in absentia, since she has been in the United States throughout the retrial.
But Simon said it was too early to talk about extradition since there is still an appeals process to go through, which will probably last another year.
Citing privacy and confidentiality issues, State Department spokeswoman Marie Harf declined to say whether Italy has requested Knox be extradited.
Knox, 26, told ABC she would fight every step of the way.
"I will never go willingly back to the place where I — I'm gonna fight this until the very end," she said.
Asked how she was coping with the situation, her attorney highlighted her strength of character.
"While she accepted that very difficult news, she has rebounded. She has shown great resilience and fortitude. And with a great deal of family support, they're going to go forward and appeal what we would characterize as a completely unjust conviction," Simon said.
The attorney argued there was "no evidence" implicating his client in the murder and never had been, adding that it was "incomprehensible" that the court had found her guilty.
Earlier Friday, Italian authorities stopped Sollecito near the border with Austria and Slovenia, Italian police told CNN.
Sollecito, who is not allowed to leave Italy while the legal process continues, was halted in the northern Italian town of Udine, police said.
The Slovenian border is less than 20 miles east of Udine, and the border with Austria lies about 55 miles to the north.
Sollecito's lawyer, Luca Maori, said his client was indeed in Udine with his girlfriend. They were driving to the town of Treviso, where his girlfriend lives, and because of the snow had to stop, the lawyer said.
Maori told CNN it was not Sollecito's intent to flee the country.
Prosecutors said the couple killed Kercher, a British student, in November 2007. Sollecito was sentenced to 25 years in prison. Both denied murder.
Kercher, 21, was found partially nude in a pool of blood in the house she shared with Knox in the picturesque town of Perugia, where both women were exchange students.
But despite years of courtroom battles over her death, many aspects of the crime still remain unexplained.
See: CNN