It was a trial over the biggest law firm failure in history. And even that has failed. A New York judge has declared a mistrial in respect of three former Dewey & LeBoeuf LLP executives in New York.
It was always going to be a tough trial and so it proved for the jurors, defendants and just about everyone else in the marathon case.
In their third note in the past two weeks alerting the court that they had reached an impasse, the jurors said Monday that they were "hopelessly deadlocked.".
The decision comes on the 22nd day of deliberations by a 12-member jury, which acquitted the ex-law firm leaders on several dozen counts of falsifying business records. The jury couldn't reach a verdict on grand larceny and other more serious charges facing Dewey's former chairman, Steven Davis; ex-chief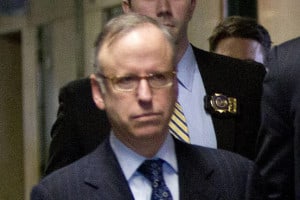 financial officer, Joel Sanders; and former executive director, Stephen DiCarmine.
The WSJ reports that the mistrial is a setback to Manhattan District Attorney Cyrus Vance Jr., who pursued for more than three years what has become one of the office's most high-profile matters.
The district attorney's office said in a statement that the result may "necessitate a retrial, pending a thorough review." Judge Robert Stolz still has to rule on defense motions to dismiss the case.
Skylar Schur, a 38-year-old public school English teacher, said there was "absolute confusion" among the jurors. Speaking after the proceedings, she said some jurors were still looking for a "smoking gun," even though prosecutors said from the start that not every case is so clear-cut. "It was too overwhelming for some people, understandably."
It was a major relief and victory for the defendants, who faced up to 25 years' jail if convicted.
The district attorney's investigation of the Dewey collapse began before the firm even filed for bankruptcy protection in 2012.
The DA's investigation led to a 2014 indictment, accusing the three ex-leaders of overseeing a  scheme to artificially inflate the firm's financial performance. The fraud, prosecutors alleged, helped persuade banks and insurance companies to lend the firm money.

Related articles