"El Chapo" the infamous drug lord is battling more than just extradition to the US, he's also got his own lawyers battling one another.
Having a legal team in-fighting is not the most helpful characteristic of a successful legal defense of any kind, but Joaquin Guzman has had two of his attorneys file an appeal against the US extradition request, but they were disavowed by a third attorney that has lead to the fighting.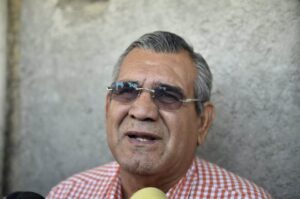 The 'third man out', Attorney Jose Refugio Rodriguez (pictured, left) told The Associated Press that the appeal request was not authorized by Guzman and that Guzman will not sign off on the appeal, which means the courts will not act upon it.
"This hurts Joaquin Guzman because it hinders our defense," he said before adding that the two lawyers who filed it were actually not part of the extradition team working on the case in any event. The lawyers were, he said, motivated by "a desire for notoriety".
That team is still considering the government's arguments and plans an appeal in the coming weeks that "El Chapo" will approve.
"We have a strategy with Joaquin and we are planning it," Rodriguez said.