The death of millionaire lawyer John Jones in April, who represented Wikileaks' Julian Assange among others, is an apparent suicide that has friends, colleagues and clients asking "Why?"
With no evident reason to do so, and little reported in the media, the question of why he might have done so is increasing in intensity.
John Jones, a lawyer who specialised in extradition, war crimes and related matters and who worked with lawyers like George Clooney's barrister wife Amal Clooney, was killed when he leapt in front of a train in West Hamstead in a death that police are  not regarding as suspicious.
Married father of two children, John Jones, 48, was academically gifted and had been defending Julian Assange, among others.  Head of international law at Doughty Chambers he was highly regarded by the profession for his academic and legal abilities, as well as his commitment to justice and the law generally.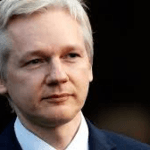 Few reported on it or raised the obviously question as to his suicide – Why?
However serious questions have arisen this week at the coronial inquest into Mr Jones' death as to how he was permitted to leave a private psychiatric hospital at 5am and go to the train station where he died.
As the Camden New Journal reported he was at the private hospital with a number of mental health issues that had been given the 'working diagnosis' of bipolar disorder and anxiety.
But the court heard that he spent the majority of the time alone in his room, refusing to attend therapy sessions or even eat in the communal dinning room.

Coroner Mary Hassell raised concerns about his treatment and said: "He was in his room, lying on his bed or on his laptop. That seems fairly awful in therapeutic terms. To me if I were worried about a person that was mentally unwell I would think that environment was the worst possible environment for them."
As the EU Times reported this week: No one did any kind of investigative journalism at all and no one asked themselves what was a millionaire lawyer doing on the train tracks. Picking mushrooms?
There is a severe lack of information that we don't even know where exactly this happened, in West Hampstead train station? In the middle of nowhere? No one interviewed the train driver, no one asked him what happened or what he saw. Was he pushed in front of a train? Did he slip? Are there any witnesses? What about CCTV cameras?? UK is infested with those yet they prove useless now when we need them?

Again, complete blackout on this so-called suicide.
Who Was John Jones?
He was a millionaire who lived in a $2 million villa in Hendon, north London with his Slovenian wife Misa Zgonec-Rozejand and there is no known reason for a suicide.
A recent case saw him  working with his colleague Amal Clooney to try and halt the execution of Colonel Gaddafi's son Saif and Libyan spy chief Abdullah-al Senussi.
Both admired and liked by clients and colleagues alike, there has been considerable discussion about exactly how and why John Jones died
As The Guardian noted in his obituary:
He gave time unstintingly to mentor young lawyers and to assist colleagues with creative arguments in his specialities. His advocacy was fluent and unflappable, his scholarship unimpeachable and his sense of humour always intact.