The Johnny Depp lawyer who won his defamation case, Camille Vasquez, has received her inevitable promotion to partnership from her law firm, but one of her principal achievements beyond her trial victory is to provide inspiration for women lawyers and those seeking to possible take up a legal career.
Vasquez said she found her new-found fame somewhat overwhelming.
"But if I can be an inspiration to young women that want to go to law school and study and work hard, then it was all worth it," she said while appearing with beside fellow Depp attorney Benjamin Chew on "Good Morning America."
Her law firm, Brown Rudnick, where she was previously an associate, has elected her to partnership with firm Chair William Baldiga saying: "Historically, we have reserved this announcement for the end of our fiscal year. But Camille's performance during the Johnny Depp trial proved to the world that she was ready to take this next step now. We are incredibly proud of her and look forward to what she will accomplish as our newest partner."
We are pleased to announce that Camille Vasquez has been elevated to partner. She was a key member of the litigation team that won a jury verdict last week for actor #JohnnyDepp in his defamation trial against ex-wife Amber Heard. Full announcement here: https://bit.ly/3tkNuzI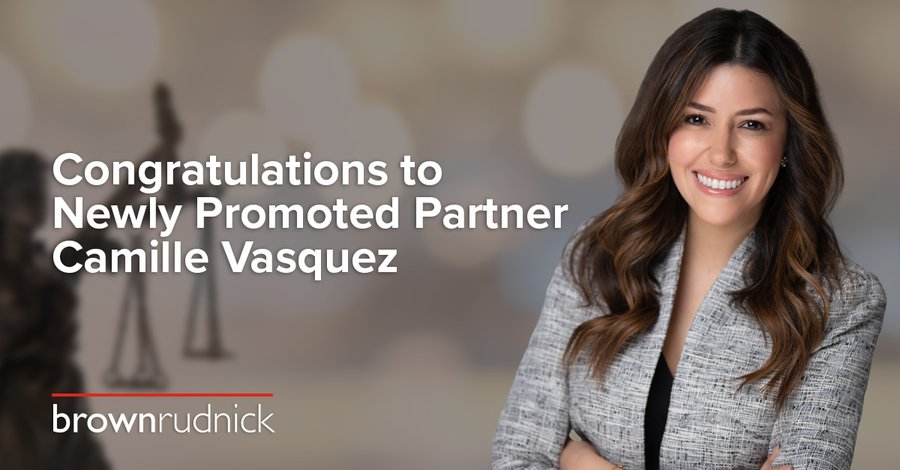 Vasquez said of the early announcement: "I am delighted that Brown Rudnick has given me its full vote of confidence by having me join the partnership. I'm proud of the uniquely talented team I've had the privilege to lead, which exemplified teamwork and collaboration, and I look forward to continuing to represent Brown Rudnick's culture of excellence."
She is a 2010 graduate of Southwestern Law School and received her bachelor's degree, magna cum laude, from the University of Southern California in 2006.
Depp Trial Prominence
The Depp trial provided her with an unusually prominent role handling cross examination and closings, unusual for an Associate to handle in a major case.
Despite the #Metoo aspects to the Depp case, Vasquez has said she does not regard it as a setback for women, a claim made by Amber Heard's lawyers and women's rights groups, who claimed it would deter women from complaining of abuse.
On Good Morning America she said "We're only speaking about what happened in this case," she said.
"We encourage any victim to come forward… domestic violence doesn't have a gender."
But her major claim is that she may encourage women to become lawyers, recognizing what she has achieved in the Depp trial and the fandom that accompanied the win.
ReFuel with the top law news weekly that's fun to read