About Gilbert + Tobin
Gilbert + Tobin is an independent corporate law firm with offices in Sydney, Melbourne and Perth.  The firm has favourable rankings and comments from graudates and others for work quality, teamwork and innovative approach to its employees and partners.
What Gilbert + Tobin say – 
We have over 500 professionals working in our Sydney, Melbourne and Perth offices. And as a young firm, we're not constrained by tradition, so we're always open to change and ideas for improvement . .  We pride ourselves on treating everyone equally across the firm and providing a supportive environment.
At Gilbert + Tobin you really do get the best of both worlds. Our size works to your advantage because you benefit from a cohesive team structure where your contribution to the firm
Benefits – 
Competitive remuneration
Wide, cross-border experience
International secondment opportunity
Diversity – 
"We are proud of the fact that 33% of G+T's partnership is female – more than any other major Australian law firm. A very high proportion of our firm's leadership team are also female and women are represented on our board
"In 2015, we received an Employer of Choice for Gender Equality citation from the Workplace Gender Equality Agency. While Gilbert + Tobin has been recognised as an Employer of Choice for Women in the past, this prestigious new citation substantially raises the expected level of performance on gender equality, diversity and inclusion."
Rankings – 
Glass Door Ranking –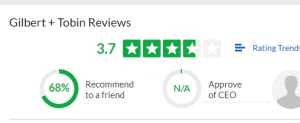 Grad Australia Ranking –