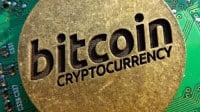 Two United States congressmen introduced legislation in late December that would exclude certain digital currencies from being defined as securities – a bill that, if enacted, may finally provide the cryptocurrency industry with regulatory clarity regarding when the offer and sale of digital tokens must comply with federal securities laws.
The Token Taxonomy Act of 2018 – introduced on December 20, 2018 by Reps. Warren Davidson (R-Ohio) and Darren Soto (D-Florida) – would, among other things, amend the Securities Act of 1933 and the Securities Exchange Act of 1934 to exclude "digital tokens from the definition of a security," as well as exempt digital tokens from the registration and reporting requirements of Section 5 of the 1933 Act.
The bill effectively defines "digital tokens" as tokens created through the operation of the blockchain process and that are not "a representation of a financial interest in a company, including an ownership or debt interest or revenue share." The definition explicitly includes such tokens issued through an initial coin offering (ICO, or the process of raising capital in exchange for tokens).
The bill leaves room for the SEC to deem certain "digital units" as securities – an umbrella term meant to represent any "economic, proprietary, or access rights that [are] stored in a computer-readable format" – if such units fall outside the definition of "digital tokens" and are actually meant to serve as equity. And when a party has a "reasonable and good-faith belief" that it is selling a token (versus a security) and the SEC disagrees, the bill grants that party a 90-day safe harbor period wherein it can avoid penalty by halting the sale of all tokens and returning all proceeds.
What are some of the practical implications of this type of change? In some ways, legislation like this would preserve an informal status quo for certain popular digital currencies. Last year, SEC officials indicated that they did not qualify Bitcoin and Ether as securities under the SEC v. W.J. Howey Co. test due to their decentralized nature (i.e., their reliance on blockchain's peer-to-peer network structure, and the resulting lack of any efforts by an issuer or promoter related to the security).
Because currencies like Bitcoin and Ether would fit within the definition of "digital token," this bill would essentially formalize those remarks into law.
More importantly, if enacted, the bill may stand to curb some of the SEC's scrutiny of ICOs, although the precise extent of this potential impact is unclear.
The SEC instituted and/or settled numerous enforcement actions relating to ICOs in 2018, and absent Congressional intervention, this approach could pick up steam in 2019: the same day that the Token Taxonomy Act was introduced, the SEC also announced its examination priorities for 2019 and noted that a "particular emphasis will be on digital assets." Moreover, although SEC Chairman Jay Clayton recently noted that technically not all ICOs involve the offer and sale of securities – he mostly scrutinized those ICOs where promoters "emphasize the secondary market trading potential of these tokens [and] the potential for tokens to increase in value . . . based on the efforts of others" – he nonetheless concluded that, in practice, most ICOs do implicate securities laws: "By and large, the structures of initial coin offerings that I have seen promoted involve the offer and sale of securities and directly implicate the securities registration requirements and other investor protection provisions of our federal securities laws."
Accordingly, this bill, if passed, would likely do nothing to curb SEC scrutiny of the many ICOs where a promoter creates a token that entitles its holder to a financial interest in the venture, as this token would still be defined as a security under the bill – meaning that, ultimately, the SEC's vigorous policing of ICOs is likely here to stay. At a minimum, however, the bill would provide a burgeoning industry with formal, bright-line legal clarity that it has not had.
Ultimately, the bill looks to be an opening salvo in an ongoing legislative process of determining how digital currencies will be treated under federal securities laws. For example, Representative Soto called his legislation a "great first step" and expressed uncertainty about how other agencies would fit into the regulatory puzzle: "The Federal Trade Commission (FTC) has a history of policing web services, while the Commodities Futures Trading Commission (CFTC) has authority over commodity derivatives.
To what extent does the jurisdiction of the FTC apply to digital tokens?" Congress is still working out the details, but for an industry that has generally sought a clearer legal framework in which to operate, the bill, if passed, would be an encouraging first step.
Author –
Joshua Malone is an associate with Farella Braun with a litigation practice focused upon white collar crime defense, internal investigations and commercial litigation.