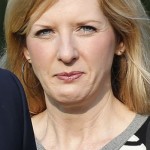 A lawyer regarded by President Obama and the White House as "an enormous assets" is to leave the administration at the end of the year.
Kathy Ruemmler is a former white collar crime prosecutor who started working with the administration in 2010. She was the lead prosecutor in the government's 2006 case against Enron executives Kenneth Lay and Jeffrey Skilling, first served as deputy counsel to Obama and was elevated to serve as the president's top lawyer after Bob Bauer left the administration in June 2011.
"She is an enormous asset and very important adviser to the president, and one of the smartest people I've ever met," said White House Press Secretary Jay Carney, who confirmed Ruemmler's departure.
The announcement of Ruemmler's resignation follows President Obama announcing that one of his most trusted economic advisers, Gene Sperling, would soon be leaving his administration.