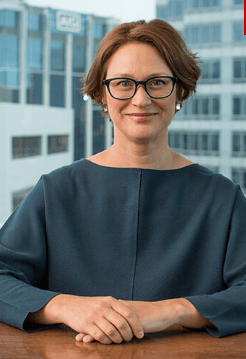 Top New Zealand law firm, MinterEllisonRuddWatts has promoted six lawyers into senior positions, effective 1 January 2019 – further bolstering its prominence across a range of practice areas, including Corporate, Dispute Resolution, Construction as well as Real Estate and Property.
The firm's Chief Executive Andrew Poole says: "We are thrilled to see these talented staff progressing their careers with us and I congratulate them all on their promotions."We are proud to be a firm that rewards exceptional people who are not only great lawyers but great leaders, strategic thinkers and communicators.
We recognise their level of skill, experience and talent."The newly promoted Special Counsel and four senior associates:
Sonya Forbes (Special Counsel, Corporate, Auckland) (pictured)Sonya Forbes joined the firm in 2017 as a Senior Associate in the firm's corporate technology team. She is a highly valued member of the team with an excellent technical ability, pragmatic and solution orientated approach to matters. Sonya is a highly experienced practitioner, having worked in both private practice and in-house roles in New Zealand and London.

Tanya Wood Joining the firm in 2016, Tanya is a skilled senior practitioner with the firm's Band 1 Construction team. Tanya specialises in construction litigation with particular expertise in property based insurance claims and dispute resolution of complex building disputes.  Tanya has a wealth of experience.  She was one of the senior legal advisors responsible for assisting Vero Insurance New Zealand Ltd with their complex losses arising from the Christchurch earthquakes.
Olivia de Pont (Senior Associate, Dispute Resolution, Auckland)Olivia joined the firm as a Senior Solicitor in 2017 from another top tier law firm. Olivia is a talented lawyer who has an excellent instinct for strategy which is respected by clients. Since joining the firm's Auckland dispute resolution team, Olivia has impressed with her pragmatic and solution oriented approach and her commitment to the team's ongoing development.
Alastair Gatt (Senior Associate, Real Estate and Property, Auckland)Alastair joined the firm's Real Estate and Property team in Auckland as a Senior Solicitor in late 2015 having worked in private practice and in-house legal roles for a number of years in Scotland before moving to New Zealand. As an essential and highly valued member of the team, Alastair's manner and work ethic are excellent and recognised by quality feedback, both internally and externally.
Suzy McMillan (Senior Associate, Corporate, Auckland)On Suzy's return to New Zealand in 2016 she joined the Corporate IP/IT team. Suzy has a mixture of in-house and public sector experience in both New Zealand and the UK, which has rendered her a hardworking, versatile and talented lawyer, with a broad skill set. Along with Suzy's general commercial skills, she has made an important contribution to the firm in the specialty area of privacy.
Sarah Moore (Senior Associate, Dispute Resolution, Auckland)Hailing from Australia, Sarah has made a smooth transition into New Zealand's legal market since arriving in late 2017. With a background in private practice in Melbourne, Sarah is a highly capable and resourceful practitioner, and is an integral part of the firm's relationship property practice. Sarah has a proactive approach in helping clients resolve complex disputes at what can be a very trying time.
Seven senior solicitors also received promotions, effective 1 January 2019. Congratulations to Phillip Chrisp (Corporate, Auckland), Jonothan Embling (Dispute Resolution, Auckland), Joshua Kimpton (Employment, Auckland), David Kraitzick (Dispute Resolution, Auckland), Kate Muldrew (Construction, Auckland), Shukti Mokkapati Sharma (Construction, Auckland), and Rachael Watene (Corporate, Auckland).
ReFuel with the top law news weekly that's fun to read