Oscar Pistorius, the "Blade Runner" defendant in the shooting of his girlfriend, appears to have had previous gun issues.
A month before the para-Olympian was alleged to have killed his girlfriend he accidentally fired a gun under a table in a Johannesburg restaurant, requesting that a friend, Darren Fresco, take the blame for the discharge.
Professional boxer Kevin Lerena described how he, Fresco Pistorius and another were having dinner at Tashas restaurant when the gun went off.
Lerena, a 21-year-old boxer who met Pistorius when the two went to watch car racing, said the incident at the upscale Melrose Arch shopping complex left him shaken and in shock.
CNN report that Lerena said one of the group, Darren Fresco, had passed his pistol under the table to Pistorius, telling him, "I'm one up" — an indication that there was a bullet loaded in the chamber.
"A shot went off in the restaurant and there was just complete silence," Mr Lerena said, adding that his toe was scratched by the bullet, and "there could have been a fatality".
Mr Lerena told the court that Pistorius then apologised repeatedly, and asked Mr Fresco: "Please Darren, just say it was you."  Mr Fresco is due to be a witness at the trial also.
Mr Lerena's testimony on the third day of the Pistorius trial is a switch from that of previous witnesses, all three of whom were neighbours who testified to hearing screams and gunshots in the early hours of 14 February 2013, when Miss Steenkamp was killed.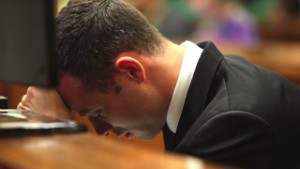 Pistorius apologized to his friends and checked no one had been hurt, and then turned to Fresco and asked him to take responsibility, Lerena said.
"'Please take the blame for me — there's too much media hype around me,'" Lerena quoted Pistorius as saying to Fresco. "When the restaurant owners came up, Darren took the blame."
Lerena was giving evidence in relation to a lesser charge brought against Pistorius of discharging a weapon in a public place. The main charge he faces is murder in the death of his girlfriend, model Reeva Steenkamp, on Valentine's Day 2013.
Pistorius has pleaded not guilty, saying it was a tragic error and he mistook her for an intruder when he shot her through a locked toilet door.
Trigger Hapy Pistorius
The prosecution has sought to portray the running star as trigger-happy. Pistorius has also pleaded not guilty to the Tashas gun offense charge, and to a similar charge of putting a bullet through the sun roof of a car in a separate incident.
His defense team poked holes in the testimony of yet another witness who said he heard shouts and shooting from the Olympian's home the night Steenkamp was killed.
Defense lawyer Barry Roux has tried to show that some of the witnesses have tailored their testimony to match one another's. Wednesday's witness was Pistorius' neighbor Charl Johnson.
His wife, Michelle Burger, has already testified to hearing shouts from Pistorius' house before a series of gunshots around 3 a.m.
Johnson told investigators he and his wife didn't discuss their versions of events with each other. But on the stand, Johnson said he did discuss how many shots he and his wife heard and the timing of those shots.
"You and your wife could just as well have stood together in the witness box," Roux remarked. For witnesses to be considered reliable, they have to maintain independent versions of events, Roux said. "You failed, Mr. Johnson," he said.
See: CNN