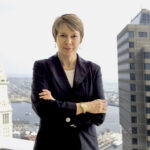 Sidley Austin continues its expansion mood in 2013 with 11 senior lawyers joining the firm from Bingham McCutchen.  Last month the firm hired a tax partner from Vinson & Elkins, a technology partner from Cooleys and an M&A partner from King & Spalding.
The firm has recruited 11 lawyers from Bingham McCutchen, including Bingham's securities enforcement chief, Susan Merrill.
Sidley Auston announced they had hired the 11 lawyers with 10 becoming partners and one joining as councel.
Law.com reports:
Besides Merrill, the others joining Sidley are Neal Sullivan, the Washington, D.C.–based former head of Bingham's broker-dealer group; securities regulatory and enforcement defense partner Herbert Janick III, a former general counsel of UBS Financial Services; Boston securities regulatory and enforcement defense partner Robert Buhlman; San Francisco regulatory partner W. Hardy Callcott; New York derivatives partner Kenneth Kopelman; New York regulatory and enforcement partner Gerald Russello; New York securities partner Nader Salehi; Portland, Maine, investigations and enforcement partner Corin Swift; D.C. compliance and enforcement partner Michael Wolk; and Portland securities counsel Eric Seltzer. (The hires come roughly a year after Sidley hired Wendy Lazerson, Bingham's former labor and employment cochair, as a partner in Palo Alto.)

Sullivan and Janick played key roles in Bingham's effort to lure Merrill—who spent a decade as a partner at Davis Polk & Wardwell before leaving in 2004—to the firm from FINRA three years ago, according to our previous reports. Neither a call nor an email directed to Merrill's Bingham office late Monday were immediately returned.

Sidley's Carter Phillips—a veteran appellate litigator who argued his 100th case before the U.S. Courts of Appeals in December and was designated last April to succeed current firm chair Thomas Cole—declined to comment when reached Monday night by The Am Law Daily. (Cole, a corporate partner in Chicago, will step aside on April 27 to make way for Phillips as sole chair of Sidley under the succession plan announced last year.)

The Sidley raid on Bingham comes as the former copes with a few high-profile departures of its own. Last week, for instance, Wilson Sonsini Goodrich & Rosati snagged five IP litigation partners from Sidley in Los Angeles and Silicon Valley, according to sibling publication The Recorder. Since the beginning of the year, Sidley has also lost litigation partner Ing Loong Yang to Latham & Watkins in Hong Kong, labor and employment partner Steven Catlett to Schiff Hardin in Chicago, and insurance litigation partner Jeffrey Crane to Edwards Wildman Palmer, also in the Windy City, where Sidley has its roots.

Washington, D.C.–based litigation partner Jay Jorgensen left Sidley last year to become the new global chief of compliance at retail giant Wal-Mart, according to sibling publication Corporate Counsel. The D.C. office also lost litigation partner Bradford Berenson, who joined General Electric as its vice president and senior counsel for litigation and legal policy, according to sibling publication The Blog of Legal Times. Another defector, Lee Smolen, the head of Sidley's real estate practice until last year, recently resurfaced at DLA Piper in Chicago.

Amid the losses, Sidley has also remained active in the lateral hiring market. The firm brought on a handful of partners from the now-defunct Dewey & LeBoeuf in 2012, as well as adding Latham digital media and Internet industry cochair Glenn Nash to serve as the new cohead of its technology transactions practice and former Pillsbury Winthrop Shaw Pittman trade and commodities finance practice cohead Alexander Moon.