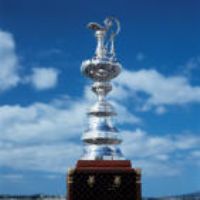 Reports recently outlined the three lawyers who can make or break an America's Cup challenge, one of the most litigious sporting events in the global sports calendar.
The America's Cup Arbitration Panel has already had to decide 10 cases before the 36th challenge in Auckland next year, with their latest decision being the one reverberating most across the waters upon which the troubled challengers will meet.
Radion NZ reports thatthe decision earlier this month the panel chaired by Australian lawyer David Tillett, with retired New Zealand lawyer Graham McKenzie and Switzerland-based lawyer Henry Peter, ruled that the constructed in country clause would prevent the cash-strapped Stars + Stripes Team USA from borrowing a boat from the other challengers or the defenders – Team New Zealand – to go racing.
Graham McKenzie (left) is a former partner at Bell Gully in Auckland and sailed competitively in keelboats. He has been a jury member at two previous Cups and was called as an expert witness in 2009 by then America's Cup holder Alinghi in their ill-fated defence of a court case brought by Oracle who won the right to challenge Alinghi and lifted the Cup, paving the way for the current regatta. McKenzie is a director of several public companies, was also deputy chairman of Saint Kentigern Trust Board and a trustee of the Bruce McLaren Trust.
Dr Henry Peter is a partner in a large Swiss law firm and a professor at the University of Geneva. He has previously served on an America's Cup Jury and twice been a member of the America's Cup Arbitration Panel (once as Chairman).
Stars + Stripes has yet to officially withdraw from their pursuit of sport's oldest international trophy but without a boat of their own they are quickly running out of options.
David Tillett has a long list of governance roles in sailing, including three times being chairman of the Olympic Games Jury and serving on the Volvo Ocean Race juries (twice as Chairman). 
Tillett said that although he would like to see all four challengers, being Italy's Luna Rossa, INEOS Team UK and American Magic the chances of them making the challenge in Auckland after the ruling is now unlikely.
Mediation is an alternative way to solve disputes but for some issues – like the construction in country – which Tillett says "evoked considerable discussion and interest in the sailing and other circles" – that was not an option.
"That one was one that it was never going to be a possibility of mediation because it was an all-or-nothing situation but there have been other aspects relating to the different arrangements with the events that have been dealt with by mediation successfully and I think that is a real positive where disputes can be resolved by mediation.
"If they can be, the teams are very open and are very cooperative to mediation even though they might have significant differences on matters."
Tillett is expecting a busy couple of months leading up to next year's racing, knowing there will also be a testing of the rules by the teams.
"It's perfectly natural that people look for different areas that they feel that they can get some sort of an advantage and they would go to as to the question of design rules and things like that. There's class rules that a separate measurement committee deals with and so everyone's going to be pushing for whatever interpretation or benefit that they can see that they can get."
The panel's work is not over when sailing begins.
Teams can still raise off-the-water issues with the panel during the America's Cup regatta.
Tillett says the lawyers, currently based in three different countries, are hoping to be able to be in New Zealand by January to set up so that they can offer quick resolutions.
ReFuel with the top law news weekly that's fun to read