[vc_row][vc_column][vc_column_text]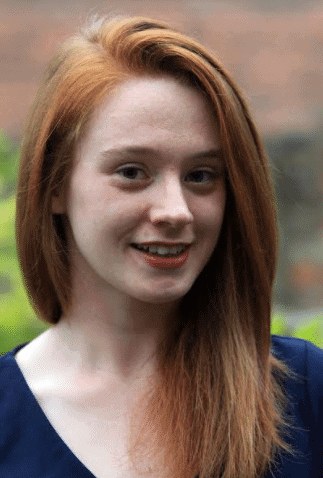 Solicitor and blogger Rosie Watterson publishes the popular UK blog Apply.Shine.Win which provides practical advise to lawyers seeking a training contract with a firm and law career tips.
Receiving a strong and growing readership via witty and insightful observations on working for a firm, Rosie Watterson has become an increasingly visible and listened-to voice in the legal world and beyond.
Apart from building an impressive academic record at Queens University, Belfast and studying Mandarin at one of China's top universities, she has also had to overcome an upper limb deficiency which has made her, in her words, "a lightening fast problem solver."
Having a deficiency has been a strength, she says, and her sage and witty advice to lawyers or law students seeking work has resonated with her growing audience.
Learning how to handle rejection,listening to her "angry song" ("I listened to it after Simmons & Simmons rejected me. I listened to it after Mayer Brown rejected me. And I listened to it a lot after Baker McKenzie rejected me. ")
Then there's 'application cliche', the questions you're bound to be asked ("Grab your application and one of those bingo pens, and let's see how many clichés you've got! If you get all twelve, email me. You should get an award or something.")
Or 'how to do well in group exercises' ("In group exercises, points win prizes. Yes your team needs to come up with a good plan/ presentation/ pitch. But do you know what graduate recruiters do with your ideas at the end of the day? They throw them away.")
You get the picture.  She's feisty, fun, and followed.
Apply.Shine.Win is run by Rosie Watterson, set up in November 2017 and generating increased readership with wise observations and featuring practical advice on how to get a training contract. It is read by those "who have absolutely no idea where to start at all, or who have been rejected and aren't sure how to improve", she tells LawFuel and gets about 160 viewers a day.
Watterson, who started the blog in :
Did you always want to be a lawyer?
When I was a kid I wanted to be a penguin when I grew up. Upon realising that it probably wasn't going to work out, I thought I might like to be a journalist.
I did always love writing, but it wasn't really a career I felt passionately about. I decided to do a history degree because I loved the subject. However, soon enough I had developed an interest in businesses and the stock market. So I sent a speculative CV to every commercial law firm in my hometown, and one got back to me. I did a week in their corporate department and loved it, and the rest is history.
I'm now in the middle of studying my GDL in Leeds, and am looking forward to training with Herbert Smith Freehills in London next year. In the meantime, I'm running my blog called Apply.Shine.Win all about how to get vacation schemes and a training contract.
What's happening in graduate recruitment?
I don't think that recruiters are intentionally trying to trick people.
It seems to me that graduate recruitment is one of those jobs that you can only do if you're passionate about it, because it's just go-go-go all the time. Certainly, all the recruiters I've ever met are really committed to finding and cultivating the best talent. It doesn't benefit them to play tricks as that means that great candidates might be unsuccessful.
However, that's not to say that it's always clear to candidates why recruiters do certain things. And there are unspoken rules.
What sort of 'unspoken rules?'
Application questions, for example. You need to know that they're sort of like school exams. You have to read into them, and figure out what the recruiters really want to see. In every application, you need to talk about your motivation for being a commercial solicitor, your achievements and firm research.
Sometimes the questions might be 'why law?' 'why this firm?' and 'what are you proud of?' In this instance, it's fairly obvious that you'd talk about your motivation first, then your firm research and then your skills and experiences.
But sometimes the application might be less clear. For example, it might just ask 'why do you want to work at this firm?' And you still need to fit in your experiences and firm research, as well as your motivation.
That's why it's important to look at the application as a whole and plan your answers before you start.
How does intense competition, artificial intelligence and other factors affect the recruitment process?
That's a great question – one that would be much better answered by a recruiter! But I think so long as we have more graduates than training contracts, the recruitment process is going to stay quite long.
By that I mean, it has many stages- application, tests, video interviews, assessment centres etcetera. They simply need ways to rule candidates out. And maybe that sounds a bit cynical, but it's not meant to be.
The graduate recruitment teams simply can't interview everyone who applies – they don't have time. And I don't see that changing any time soon.
That being said, I'm excited to see more CV-blind recruitment. For example, the Aspiring Solicitors' Commercial Awareness Competition (https://www.aspiringsolicitors.co.uk/category/uk-commercial-awareness-competition-201718/) provides the winners with work experience in City firms.
Also, HSF run a 'Too Good to Miss' video competition, where students explain why they stand out from the crowd.
I think this is a really great way to promote diversity at the graduate recruitment stage. And I just don't see any draw-backs to it. If you've got amazing grades, you'll have no problem going through the ordinary application process. And if you don't have amazing grades, these opportunities give you a chance to shine.
What are some of the  major 'problems' or issues that you receive from readers?
I think people really struggle with writing about their experiences. Which is a shame, because you can have an amazing list of work experiences, but if you can't write about them effectively they go to waste.
I bang on about this in my blog, but it's important to follow the STAR technique. STAR is a mnemonic for Situation, Task, Action, Result.
Situation: this is you saying what the job was, where you did it and for how many hours a week.
Task: you need to describe a project you were given, or a problem that arose. Try to make it one specific example, rather than listing your general duties.
Action: what did you actually do? People struggle with this section. A common pitfall is saying 'we did this.' Even if you are a part of a team, you need to talk about what you did specifically. Also, people often say 'I contributed to.' How did you contribute? What did you actually do, and how did you do it to ensure success? And don't forget about the planning process, or the measures you took to prevent a negative outcome.
Result: what did your actions achieve? Try to give specific, measurable results. And see if you can draw out the commercial element. So think in terms of profit, savings, promotion and marketing, brand reputation and customer loyalty.
It is absolutely fine to shuffle the STAR order around, or have a number of tasks and a number of results. But try to ensure you have addressed all the elements. And Dan Reed (head of Digital Capabilities at Barclaycard) even suggests adding 'D' on the end, for 'differently.' What would you do differently next time? I think this is a great idea.
What about your top interview tips – the perennial favourites that work?
Everyone loves talking about themselves, so you should never be afraid to ask your interviewers questions. And you should definitely spend some time preparing good questions to ask.
The best interviews are the ones that overrun because you and the Partners are chatting away about interesting things that are going on at the firm.
And I think the best advice I ever got was from Chris White (right), the founder of Aspiring Solicitors. He said you should go into an interview and be the best version of yourself. Don't try to be anybody else, but be you on your best day.
And to me, that means preparing competency STAR examples that are not exaggerated, but emphasise my strengths and achievements. Asking questions about things I am genuinely interested in. And talking in a way that gets my true personality across to the interviewer.
It doesn't always work because not everyone likes me. But that's just life.
The place of women with the amount of gender inequality and sexual harassment – how big a factor is that for young female graduates?


The research I've seen suggests that sexism is actually an issue that intensifies as women move through their careers. So, last year in the UK, 67% of individuals who accepted places to study law were women. In 2016, just over 62% of new Trainees were women. The number of practising solicitors in the UK was about 50:50.
So the discrepancy between men and women only really starts to gain traction at the Associate level. In the larger UK firms (with 50+ Partners) only 29% of the Partners are female. Which is a disappointing drop from the number of female Trainees.
Whereas sexual harassment is completely different. It's a thing you can be vulnerable to from day one. But day one is before your professional career even starts- I know a law student who has been offered good grades by her lecturer in return for sexual favours. It beggars belief but it still happens.
However, what is reassuring is that we are heading in the right direction. Less and less people believe that women should just have to put up with sexual harassment. And more and more people are speaking out about it. And I do genuinely believe that things are changing.[/vc_column_text][/vc_column][/vc_row]