How do you start a successful law firm these days?  What's more, how do you start a successful law firm if the principals are all women.
But wait . . there's more . .  how do three Black women start a law firm that succeeds and prospers in a tough, white-male dominated legal world?
LawFuel spoke with the principals of KMR Law, Keli Knight, Yondi Morris and Jessica Reddick, a firm that we reported on recently, which started in 2011 when one of the principals tweeted that she had enough of working as a contract lawyer and wanted to start her own firm.
But wanting to start a law firm and doing so successfully are two quite separate things.  When the law industry demographics also show that around one-third of law firm partners are women and that 88 per cent are white, it makes three young African-American lawyers bold – or not.
However, Chicago-based KMR Law Group, which specialises in real estate, corporate and entertainment law, is a success story.  LawFuel spoke with the principals about their firm and the challenges and prospects they face.
LawFuel – How you use marketing and social media to grow your practice?

Keli – We've found that the best way to reach our target demographic (which would be buyers and sellers of real estate, entrepreneurs, and those in the entertainment industry) is through personal interactions. To that end, the majority of our marketing efforts include speaking engagements and social media campaigns.
Early on, we tried to do some of the "old school" marketing such as mailings, handing out fliers to advertise specials and discounts and cold calling/emailing; but nothing has been as effective as grass roots building and forming relationships.
Social media has been quite effective because, through Twitter, LinkedIn, Facebook and Instagram, we can showcase KMR as a brand and company as well as the partners as individuals.
We are also able, through social media, to seek out ideal clients and others with which we'd like to network and to interact with people from all over the world.
By posting pictures of us out and about in the community or at fundraisers, etc., we are able to show people what KMR really does on the day to day and what we believe in. We're also able to speak specifically to the services that we offer.
The great thing for us is that people continue to be inspired by our story and the work we do, and are always eager to share the information that we post. This has been most beneficial in growing our business; being able to reach so many people through social media.
LF – What are the key management tools and technology you use to build the firm?
Keli – Because we're a boutique firm and still in the early years of our business, we've relied heavily upon tools to build the firm. We use the Google App Suite, which has proven to be so much more efficient than our original platform.
Because we do not have an in-house accountant, Jessica acts as our CFO and QuickBooks has been a lifesaver for her. We also use Asana for help with internal efficiency and organization and Constant Contact for our newsletter and other scheduled email needs.
LF – How did the recruitment services come about as well as the law firm?

Jessica – KMR Legal Staffing, consistent with our entire journey, happened very organically. In our first six months of doing business together as KMR, we were approached by a colleague who was a partner at a mid-size firm here in Chicago.
She inquired as to whether we could provide some additional support for the completion of the document review portion of a litigation case she was working on.
This 6 week engagement turned into a 6 month project and we quickly realized that there is a need that we could successfully fill. From this first project, KMR Legal Staffing was birthed and now we have major corporations and law firms as clients.
Our agency provides cost effective and customized solutions to meet our clients' unique goals. We not only staff specialized experienced attorneys, but we also offer a project manager to address the clients need. KMR Legal Staffing provides personalized attention that will significantly cut down the workload, while also saving the firm or corporation money.
LF – Do you focus on African-American attorneys and clients – has that been a factor that has permitted you to market yourselves effectively as the firm grows?
Jessica – As an all women African-American firm it is extremely important to us to support our community. We spend quite a bit of time speaking pro-bono, specifically within our real estate practice area, to different minority organizations.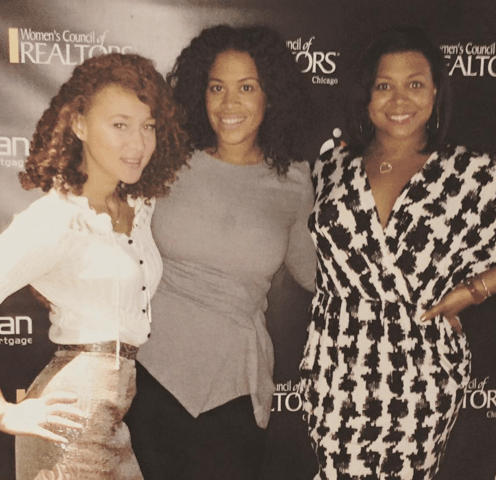 As we have grown, so has our client base. It is important for us to be strong role models for those coming behind us, while paying homage to those who paved the way for us.
LF – What are the main lessons you have learned from setting up the firm and what advice would you offer to others seeking to establish new firms?
We never realized how customer service based being a lawyer could be until we started KMR.
We've learned that while we may be very comfortable practicing law and counseling several clients at a time, for most of our clients whatever we have been hired to handle is one of the most important things going on in their lives at the moment. Transparency, patience, compassion, and responsiveness are just as important as legal knowledge.
Without these things, clients may not trust us to handle their affairs and certainly will not refer us to their friends and families in the future.
Another lesson is the idea of learning how to function outside of your comfort zone. In business you will make many mistakes, but you must move forward undiscouraged.
In the same vain, you are also forced to make decisions for the future, even when the next steps may be uncertain. Extending your professional reputation and yourself financially is required to grow, but can be quite scary.
Once you master trusting your gut and vision, and moving forward in fear, you have a key element to becoming a successful business owner!
LF – What have been the main obstacles to growth for the firm?
Yondi – One of the main obstacles of growth is figuring out how to have a diverse client base. When we first opened our doors, our primary clients were friends and friends of friends. While that kind of support was paramount in our early success, we knew that we would have to reach other people.
Using tools like social media and making sure that we are speaking to diverse crowds helped increase our visibility.
We also had to learn where to find the kinds of clients we were looking for! Taking time to travel to entrepreneurship incubators to talk to entrepreneurs about the legal steps to starting a new business became vital! Speaking at real estate agencies so that we could network with brokers was just as important.
A lot of what we did in the initial stages was trial and error, but when you stay at it long enough you start to figure things out.
LF – How do you establish a point of difference in a crowded legal market?
Keli – We strive to change the opinion that lawyers are unaffordable, unapproachable and untrustworthy. To maintain transparency, we provide the most cost effective advice and services and we discuss the approach with the client in advance so that the invoice is not surprising.
We also make sure to explain the services that we provide so that clients are aware of their business dealings.
Lastly, we try to be as accessible and responsive as possible because we understand that we have been hired to tend to a matter that may be a client's top life priority at the moment.