Law firm Lane Neave has appointed three new partners, two in the firm's Auckland office and one in Christchurch.
Aaron Pickett is in Christchurch with experience working for a wide range of leading international and local corporate clients, with particular expertise in private mergers and acquisitions (the sale and purchase of shares and/or assets), joint ventures and Public Private Partnerships (with Government), private equity investments and start-ups.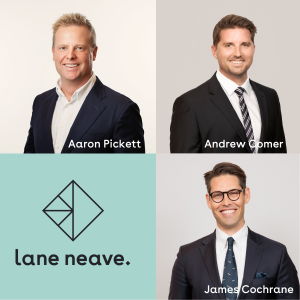 Andrew Comer will be based in Auckland, handling mergers and acquisitions, business structuring, joint ventures, and corporate advisory and governance. He has also advised clients on the legal and regulatory implications of various crypto-related projects.
James Chochrane is also Auckland-based with banking and finance, insolvency, and insurance litigation experience. He also has a particular interest, and expertise, in cryptocurrency/crypto-assets and Web3 technology.
These latest additions bring the total number of Partners to 26, with over 150 staff across the firm's Auckland, Wellington, Christchurch and Queenstown offices.