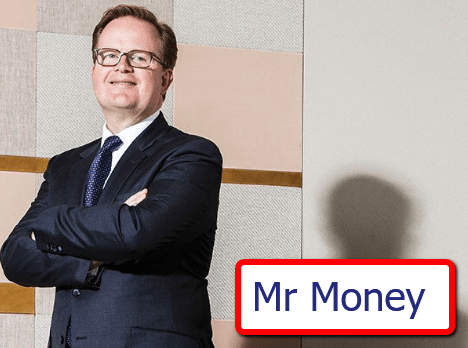 Knowing what lawyers earn on a firm-by-firm basis is something the US legal media handle extensively, but when it comes to London's top earners it has proven somewhat tougher.
But business publication CityAM believed they were up for the job and they listed what some of the City's top lawyers were earning after speaking with law partners and legal recruiters to find out just who earned the most.
And 'most' is a lot – coming mainly from US law firms in the City.
A second key characteristic is that the earners are men – starting with Kirklands' David Higgins (pictured) scoring at a mean $10m (£7m).
LawFuel recently reported on the difference between the remuneration models of the US firms with their 'eat what you kill' approach, compared to the more genteel UK approach based on seniority.
However times are changing as money talks and recruiting top legal talent means – mainly – more money.  And that means some major, continued competitive pressure on the UK firms from their US-based competitors.
The departure from Freshfields Bruckhaus Deringer of legal star Higgins has seen Freshfields 'update' its remuneration model with partners sitting atop its lockstep model earning £3.5m a year.
So who was identified as the top earners – and what was their remuneration according to CityAM's informal survey?
The Top Paid City Lawyers
David Higgins – as reported, the lawyer who joined Kirkland & Ellis from Freshfields and continues Chicago-based Kirkland's aggressive approach towards hiring top legal talent.
Stephen Lucas, who joined Kirkland from US law firm Weil Gotshal & Manges in 2014 for a reported $8 million on a three-year deal, which
reportedly has risen to $10 million, almost double what he was paid at Weil.
Richard Trobman of Latham & Watkins took over following the controversial resignation of Bill Voge following a sex scandal allegation and the CityAm report indicates his pay is up to $8 million. His area of specialty is leveraged finance.
Neel Sachdev (left) of Kirkland (that firm again) who was once nominated as London's sexiest lawyer, not a cause for his high price tag, which is similar to that of Trobman's (above).
Richard East of Quinn Emanuel Urquart & Sullivan and made enormous fees for his firm by suing banks following the Global Financial Crisis.  He took his work from Kirkland's when he set up Quinn Emanuel's London office in 2008 and – once again – he comes in at a suggested $7-$8 million.
Yushan Ng left Linklaters to join US firm Cadwalader Wickersham & Taft in 2012 for a $4-$5 million salary, before leaving for another US firm, Milbank for an increased pay.
Apostolos Gkoutzinis jumped from US heavyweight Shearman & Sterling to Milbank Tweed Hadley & McCloy. A capitals markets lawyer, sources say Milbank stretched above $5 million to bring him into the Milbank fold.
Jason Glover is a former Clifford Chance funds chief who joined Simpson Thacher & Bartlett, where he is London managing partner.  He also reaches a $5 million.
Ian Bagshaw is at White & Case although he previously worked closely with Richard Youle at Linklaters before leaving for White & Case in 2014 on a $4 million deal which may now be a million more.
Simon Twigden lead a group from Addleshaw Goddard to found a litigation boutique, Enyo Law in 2010 and has gone on to achieve rich rewards by suing financial institutions and others.  Top partners at the firm, according to firm accounts, show partners made  £3.5m last year.
Ward McKimm changed the pattern of jumping to mainly US law firms by moving from Kirklands to Freshfields in 2015, with the firm providing a deal outside the lockstep pay structure, providing the lawyer a $4.2 million.
And now, we only need to have some women in the top legal pay rates and ensure that gender equality is more than just a Big Law pipe dream, but also a cash pipe that reaches across the gender divide.
Like This Article in PDF?
Just enter your email below and we'll forward to your inbox immediately.
Enter your Email Address