Controversial Sydney law firm G&B lawyers is fund raising for a major legal action to challenge the country's mandatory vaccination program and finding fertile ground for its claim for a vaccination class action among those aged care workers required to have their first dose in September.
The feisty law firm has already been prominent in the anti-facemask action with repercussions by the Australian Law Society and is now seeking funding for its proposed class action.
Founded by Kim Glassborow, G&B Law in January last year in a separate matter for sending threatening, abusive or discourteous correspondence.
The Sydney-based law firm was admonished by the regulator for urging civil disobedience during Victoria's winter lockdown has been accused of spreading misinformation on social media with suggestions that COVID-19 vaccination does not work and testing is nonsense.
G&B Lawyers is drumming up donations for a $10 million High Court challenge to mandatory vaccination.
The firm is run by Kim Glassborow, who was formerly in-house legal counsel at Dial-a-Dump – the garbage empire founded by rich-lister Ian Malouf – and Nathan Andrew Buckley.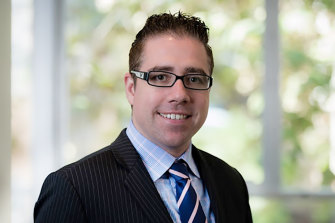 "Is this an admission that the COVID-19 tests used in Australia can't tell the difference between COVID-19 and influenza?" the law firm commented. "Or that they are the same thing? Or the tests just don't work at all?" the Sydney Morning Herald reported.
"When people like this lawyer misinterpret information, that's when you see groups like the protesters in Sydney who have been fed this garbage," he said.
Mr Buckley said he got his information about PCR testing from the announcement on the CDC website. "Do some actual journalism and take a look for yourself," he said in an email. "I understand it. Clearly you don't."
The firm claims to have been swamped with interest in the class action since the order in Australia was announced in June,, clakming more than 2400 people had shown support for the action.
A flyer seeking donations to the firm's High Court challenge said $10 million will need to be raised because an action will need to be brought in every state as well as the Commonwealth. The fine print clarifies that any donation cannot be refunded, but if the challenge does not proceed it will go towards various civil actions undertaken by the firm in relation to mandatory flu vaccination
"What we want to do is stop governments controlling people's lives, and protect an individual's right to decide whether to have a vaccination," the flyer said.
In the United States, less than one per cent of people who have died from COVID-19 were fully vaccinated. None of the people who have died in Sydney's outbreak were fully vaccinated.
Mr Buckley has been involved in the anti-vaccination movement since at least June last year, when he sought to challenge the South Australian government over its "no jab, no play" policy. He raised $62,066 through a community campaign, but the action was dropped in February because the applicant child started primary school, he told his supporters.
In July last year, he encouraged Victorians to defy their state's public health order on masks.
"Free legal advice to all Victorians," he wrote. "Don't wear a mask … Every single one of you 6.359 million Victorians can challenge the fines in court. The Victorian government won't fight you in court. It is far too expensive for them to do so."
ReFuel with the top law news weekly that's fun to read