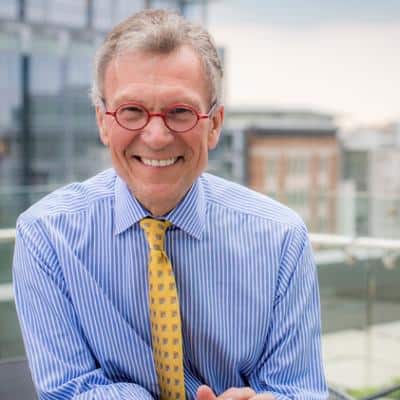 (Washington, D.C. / March 4, 2019) Former U.S. Senator Thomas A. Daschle of The Daschle Group, a Public Policy Advisory of Baker Donelson, has been recognized with the Rosalie Wynn Hearst Distinguished Public Service Award, the highest distinction offered by the United States Senate Youth Alumni Association.
The Rosalie Wynn Hearst Distinguished Public Service Award recognizes individuals who have made a positive, substantive impact on public discourse in the United States. Senator Daschle was presented with the award during the Annual U.S. Senate Youth Alumni Association Dinner held on March 2, 2019, in Washington, D.C.
Senator Daschle, the founder and CEO of The Daschle Group, has participated in the development and debate of almost every major public policy issue of the last three decades. In 1978, he was elected to the U.S. House of Representatives, where he served for eight years. In 1986, he was elected to the U.S. Senate and was chosen as Senate Democratic Leader in 1994. Senator Daschle is one of the longest-serving Senate Democratic leaders in history and served as both Majority and Minority Leader. During his tenure, Senator Daschle navigated the Senate through some of its most historic economic and national security challenges. In 2003, he chronicled some of these experiences in his book, Like No Other Time: The 107th Congress and the Two Years That Changed America Forever. In the 2013 book The U.S. Senate: Fundamentals of American Government, Senator Daschle explored the inner workings of this important part of the legislative branch.
Since leaving the Senate, Senator Daschle has remained an active and learned voice among policy-makers. He has distinguished his experience in health care through the publication of Critical: What We Can Do About the Health Care Crisisand Getting It Done: How Obama and Congress Finally Broke the Stalemate to Make Way for Health Care Reform. Senator Daschle has also emerged as a leading thinker on climate change, food security and renewable energy policy. He serves as the chair of the DuPont Advisory Committee on Agriculture Innovation and Productivity as well as the BP Tangguh Independent Advisory Panel.
In 2007, Senator Daschle joined with former Majority Leaders George Mitchell, Bob Dole and Howard Baker to create the Bipartisan Policy Center, an organization dedicated to finding common ground on some of the pressing public policy challenges of our time. Senator Daschle serves on numerous public and private boards, including the Center for American Progress and the National Democratic Institute for International Affairs. He is a member of the Council on Foreign Relations. He also serves on the Health Policy and Management Executive Council at the Harvard School of Public Health, as well as the Council on Governance for Sustainability at the World Economic Forum and the Federal Advisory Board of Accenture.
The U.S. Senate Youth Alumni Association is comprised of former delegates to the William Randolph Hearst Foundation U.S. Senate Youth Program (USSYP). The USSYP was established by U.S. Senate Resolution 324, passed in 1962, to create a program for high school students that would "increase young Americans' understanding of the interrelationships of the three branches of government, the caliber and responsibilities of federally elected and appointed officials, and the vital importance of democratic decision making not only for America but for people around the world." Every year more than 60 Senators participate in the program through serving on the annual Advisory Committee, attending the USSYP Annual Senate Reception, where all student delegates have an opportunity to meet their Senators, and through extensive keynote speaking engagements that take place throughout Washington Week.
The Daschle Group is a boutique full-service strategic advisory firm with unique expertise and reach. Led by former Senate Majority Leader Tom Daschle, The Daschle Group provides strategic counsel, political intelligence, advocacy, and media consulting services to select clients with whom we collaborate to develop and implement strategies with a proven record of success.
Baker Donelson is among the 60 largest law firms in the country, with more than 750 attorneys and public policy advisors representing more than 30 practice areas to serve a wide range of legal needs. Clients receive knowledgeable guidance from experienced, multi-disciplined industry and client service teams, all seamlessly connected across 22 offices in Alabama, Florida, Georgia, Louisiana, Maryland, Mississippi, South Carolina, Tennessee, Texas, Virginia and Washington, D.C.