Who Are The Go-To Startup Law Firms?
Jacqueline Coombe* Law firms for startups are becoming an increasingly significant part of the legal landscape, an increasingly competitive area that can be complex and daunting for new companies.
These emerging companies face unique challenges in areas such as intellectual property, financing, and governance and require the help of law firms that specialize in addressing these issues and have a deep understanding of the needs of early-stage businesses.
The right legal partner can help pave the way for a startup's success by providing strategic guidance, expert advice, and tailored services.
We have previously written about top boutique law firms that startups use, but times continue to change and new challenges – and firms – arise.
Another resource for finding the right legal partner is attending industry conferences, business meetups, and networking events, which can provide valuable opportunities to connect with experienced startup lawyers.
It is important for startups to consider factors such as the law firm's experience, reputation, and responsiveness when selecting legal counsel.
Partnering with a law firm that is not only skilled in the intricacies of startup law but also committed to the success of their clients can make a significant difference in the growth and stability of a fledgling business.
Understanding Startups and Their Legal Needs
Startups are innovative businesses founded by entrepreneurs, often with a vision to disrupt the market and drive significant change in their respective industries.
The startup ecosystem is characterized by rapid growth, innovation, and an entrepreneurial mindset, making it essential for startups to address their unique legal needs in order to succeed.
Your lawyers should understand the inherent risks and rewards associated with launching a new business but also be able to advise on a wide range of issues, from entity formation to exit strategies and overall key, business and strategic advice too.
Challenges Faced by Startups
Startups face numerous challenges, including securing funding, scaling their businesses, and navigating the complex regulatory landscape.
Frequently, these businesses must also contend with intellectual property protection, privacy governance, and wage law compliance. It is crucial for startups to be aware of these challenges and to seek appropriate legal assistance in order to mitigate potential risks and build a solid foundation for growth.
Funding: Startups often rely on various sources of financing, such as angel investors, venture capital, and crowdfunding to fuel their growth. Navigating these complex financial arrangements can be challenging, requiring legal guidance to ensure compliance with securities regulations and to protect the interests of both the startup and its investors.
Regulatory Compliance: Startups must comply with numerous federal, state, and industry-specific regulations, which can vary depending on the nature of the business or its location. Failure to adhere to these regulations can result in costly fines or legal actions that can jeopardize a startup's success.
Intellectual Property Protection: Startups often develop and rely on innovative technologies, processes, and ideas, making it necessary to protect their intellectual property (IP) rights. This includes securing patents, trademarks, copyrights, and trade secret protections as appropriate.
Essential Legal Needs of Startups
The legal needs of startups can be diverse and specific to their unique business models. Some essential legal considerations for startups include:
Entity Structure: Choosing the appropriate entity structure, such as a corporation, limited liability company (LLC), or partnership, is vital for startups in order to establish a solid legal foundation for their business. The chosen structure can have far-reaching implications for taxation, liability, and decision-making authority.
Contracts & Agreements: Startups must enter into various contracts and agreements, such as employment contracts, non-disclosure agreements (NDAs), and service agreements, which require careful legal review to ensure that they are clear, enforceable, and advantageous to the business.
Privacy Governance: Startups that collect and process personal data must comply with privacy regulations, such as the General Data Protection Regulation (GDPR) and the California Consumer Privacy Act (CCPA), which mandate that businesses maintain robust privacy policies and practices to protect consumers' data.
In summary, startups operate in a high-pressure environment where innovation, vision, and rapid growth are central to their success. In order to navigate the complex legal landscape and mitigate potential risks, it is crucial for entrepreneurs to seek expert legal guidance tailored to the specific needs of their startup.
Role of Law Firms in Startups
Investment and Financing
Law firms play a vital role in assisting startups with investment and financing matters.
They help entrepreneurs navigate the complex world of seed funding, angel investors, venture capital, and other financing options. Attorneys with experience in this field can guide startups through different stages of fundraising, including Series A and Series B rounds, and offer valuable advice on business models and corporate structures.
IP Rights and Patents
One of the key areas where law firms can support startups is in the realm of intellectual property (IP) rights and patents. Experienced attorneys help startups identify, register, and protect their copyrights, trademarks, and trade secrets to secure their innovations. They also assist in drafting agreements, negotiating licenses, and handling potential disputes related to IP rights.
Employment and Contracts
Startups often need legal guidance in employment and contract matters, such as crafting employment agreements, non-disclosure agreements, and stock option plans.
Law firms specializing in startups can help create and review contracts to ensure compliance with labor laws and provide counsel on compensation and benefits packages. Additionally, they can offer guidance on dispute resolution when conflicts arise between employees and employers.
Real Estate and Estate Planning
As a startup grows, it may need to acquire or lease property for its business operations. Law firms can assist startups in navigating the legal aspects of real estate transactions, including negotiating and reviewing leases, purchase agreements, and zoning requirements.
They can also advise startups on estate planning matters, such as establishing trusts and handling business succession planning.
Regulation and Compliance
Complying with local, state, and federal laws is crucial for startups to avoid facing fines, legal disputes, and potential closure.
Law firms provide startups with guidance on regulatory compliance, including industry-specific regulations, privacy laws, cybersecurity requirements, and tax compliance. Moreover, they can help startups navigate through licensing processes, merger and acquisition due diligence, and risk management.
Good law firms offer valuable legal support throughout the lifecycle of a startup, from business formation to investment and financing, IP rights and patents, employment and contracts, and regulatory compliance. Their expertise helps startups overcome potential legal hurdles and achieve their business goals.
Choosing the Right Law Firm for Startups
Choosing The Right Startup Law Firm
What then are the key criteria to think about when selecting a good startup law firm?
One critical aspect is the firm's experience in working with startups, as this can impact their understanding of common legal issues faced by new ventures such as intellectual property, tax, and contracts.
It's essential to find a firm with expertise in the specific areas relevant to your startup, such as funding, venture capital, employment law, relevant IP law expertise and the like.
The firm should be familiar with investor partnerships, Series A and Series B financing rounds, and any potential acquisitions your startup may face. And the ability to navigate legal issues surrounding patents, trademarks, and agreements is crucial for emerging growth companies.
When examining potential firms, focus on those with transparent, efficient, and collaborative processes that can serve your startup's vision and needs. Legal counsel should be confident and knowledgeable, offering innovative solutions for your startup's legal challenges.
It is crucial for founders to partner with law firms that have a deep understanding of their vision and industry. These law firms provide valuable guidance and support to startups at every stage of their business journey and can also provide both contacts (for instance in the venture capital space) and great strategic advice regarding your business.
Notable Law Firms for Startups
There are several well-known law firms with specialized expertise in working with startups, including some of the law firms that are on our most prestigious law firm list, and including those in technology and life sciences sectors, along with other commercial areas.
Among the top law firms for startups are the following –
Based in Palo Alto (where else?), Cooley is very much a go-to firm for startups and companies involved at the early stage of operations. The firm is large, with over 1300 lawyers in its 18 global offices and is heavily involved in technology and venture capital and IPO work, as well as playing a key role in cyber, data, IP and related areas. It also has a starring role in life sciences IPOs
Related Resource: Private Equity vs Venture Capital: Critical Differences
Fenwick is another Silicon Valley startup that started operations in 1972 and with close to 500 lawyers has become another key player in the startup law firm arena, particularly working in the technology and life sciences sector. They firm has acted for clients like Apple, Meta, Amazon, and eBay for its corporate, M&A, intellectual property, and IPO expertise. Fenwick features a startup resources section on their website and takes a founder's first approach. Learn more here.
Billing itself as the firm for "what's next", Gunderson Dettmer has consistently achieved rankings for its work with high growth tech and life sciences companies.
Firmly focused on startups and emerging companies, the law firm has 400 lawyers and is highly active in the venture capital market, being named as the top firm in the PitchBook Global League Table for VC work in 2023 – and five preceding years.
closing As put by the team at NYC Founder Guide, "Six years in a row, Pitchbook has ranked this firm #1 for high-growth technology and life sciences companies and investors globally. With a singular focus on startups and emerging companies, they are recognized as one of the most active law firms in the VC market, and in 2019, they closed $18+ billion of venture capital private financings. Startups they've worked with include Harry's, Vimeo, Skillshare, and Oscar." Learn more here.
A major firm with 1800 lawyers across its 16 officers the firm has a century-long history but also an increasing focus upon innovative and tech-driven and life science business startups and others. The firm has 230 lawyers working in life sciences across its offices in the US, Europe and Asia.
Another startup favorite, Wilson Sonsini is also another law firm that was born in Silicon Valley and has acted for tech pioneers and the much written about 'disrupters'. Among its clients are Apple, Twitter, Google and Tesla – they don't get more disrupted than that. It also encourages inquiries from startups and represents many smaller startup firms across the broad range of innovative enterprises.
Boutique Startup Law Firms
There are a large and growing number of boutique law firms handling startup work, some of which can be seen at links like this for TechRound and which include law firms in the UK, the US and elsewhere and in this AbovetheLaw article.
One of the key aspects of law firms for startups is their ability to adapt to the rapidly changing technology landscape.
They must stay abreast of the latest developments in order to provide comprehensive legal advice that aligns with the unique challenges faced by startups. Their specialized knowledge in areas like intellectual property, financing, and privacy governance can make a significant difference in the success of a budding organization.
A City Law Firm is a London-based tech law firm specialist that deploys innovative tech and billing practices encouraging startups and emerging companies to work with them.
Capes Sokol is a St louis-based law firm that has developed a significant practice in tech and IP law, including startup work.
Husch Blackwell has a 'small firm' approach to its law with a specialist assistance available to life science and tech companies and has achieved a number of ranking awards and other plaudits for its work.
Kruze Consulting is another firm that provides exceptional startup-focused accounting, tax and CFO services. They can assist with financial modeling, fundraising strategy, tax compliance, and business operations, although they are not a law firm, but very useful for startup operations ancillary to law.
InventusLaw is a firm with roots in both California and India and has represented a large number of firms involved in seed and angel funding and all manner of capital raising, as well as working across the board in startup activities.
Lewis Silkin is another British-based law firm (with offices in Hong Kong and Ireland) which provides services to many tech-driven, AI and life sciences startup and others.
SPZ Legal is a Bay area startup specialist that operates as a remote working law firm and has grown its reputation for work in this area, developing a client base across multiple jurisdictions involved in SaaS, financial technology, consumer goods and including bootstrapped startups to venture-backed companies.
In summary, choosing the right law firm for your startup involves considering a range of factors, including experience, expertise in relevant areas, and the firm's collaborative approach.
Ensuring that your legal team boasts a confident, knowledgeable, and transparent approach will be invaluable to your startup's success.
Choosing the best startup law firm may be one of the best things that any entrepreneur can do in order to achieve the success they desire. One thing is for sure: don't make the decision about what law firm to use casually or without careful research and consideration. It can be the difference between success for your startup and failure.
Author –
Jacqueline Coombe is a professional business and personal development writer who has written on a range of topics from business, marketing and finance to travel and lifestyle. Jacqueline is also a Principal Consultant specialising in Search + Content Marketing at international digital marketing agency Web Profits. She can be contacted at jacquic.writes@gmail.com
The Most Prestigious Law Firms –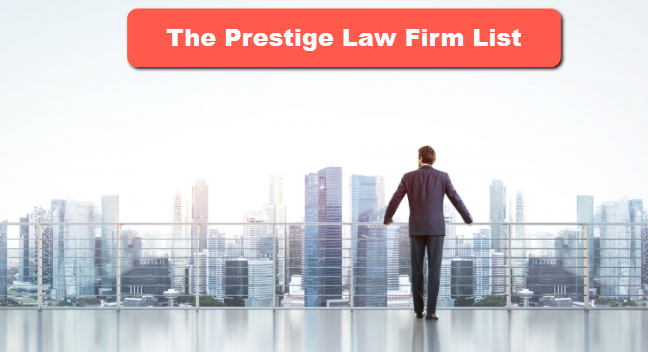 ReFuel with the top law news weekly that's fun to read