"Local SEO" has become more important for law firms to let them use the Internet's power to drive targeted leads to their websites.  But Local SEO is changing – and becoming more important.
Eighty per cent of local searches drive the conversions that lead to business, making local SEO for law firms a complete turnkey solution to generate increased sales.
While many conventional online marketing for law firms is a tough call in the ever-changing online world of Google, the simple fact is that law firms can use local SEO to rank their law firms successfully – and relatively easily – if they adopt some key procedures to achieve top ranking.
SEO marketing for law firms continues to change but this is something lawyers can do about achieving the best law firm SEO available.
And achieving better rankings and more clients is important given the stats as shown in this post in Search Engine Journal and published right back in 2018 (a significant period in the Internet age).  For instance, over 70 per cent of people checked online before calling a business or service.  And that was then!
What is Local SEO for Law Firms?
There is much about local SEO that is the same as the standard search engine optimization that is so common place, but the focus is on local search results and given that most searches are for terms like 'DUI law firm near me', or 'best DUI firm in Birmingham' etc, the need to have a good local ranking will capture the clients you're looking for.
The prominence of a law firm in terms of local SEO is something based on a range of factors, including its listing details, content, backlinks, articles published, reviews and ratings.
These are the the ducks-in-a-row that you need to get sorted to rank properly for your law firm SEO.
There is another key reason that local SEO is so good – it has the local SEO 3 pack which makes it distinctive from standard SEO.
Local search results also include a distinct feature — the local SEO 3-pack.
A local SEO 3-pack is the listing of three businesses you see first in the search results when searching for terms using keywords like "near me" or "near [Location]."
When you conduct a search for a local business, Google generates a list of potential businesses that fit your search query. The first things you'll see are the three Google My Business listings.
SEO vs. local SEO: What Does it Mean?
The local SEO 3-pack distinguishes the local SEO from 'general' SEO, returning the local search results for your law firm in the 3-pack.
What a lot of law firms overlook is that one of the most common searches for any law firm is for their 'DUI/Divorce/Property/whatever law firm near me'
They are looking for a local law firm.
And that is where the local SEO for lawyers comes into play.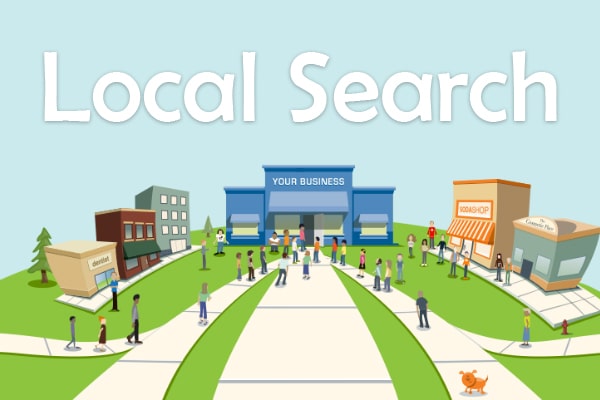 What IS the Local SEO 3-Pack?
So what is local SEO exactly?
For local searches, Google generates a list of the top three local businesses that best match the search query. These results, known as the local SEO 3-pack, appear at the top of search results with information pulled directly from your Google My Business (GMB) account (more about GMB listings below).
Local SEO Law Firm Ranking Factors
There are various ranking factors that go into ensuring your local ranking for your law firm, which come down essentially to the following key standout factors –
>The Relevance of your firm to what the searcher is looking for

> The Proximity of your firm to the searcher

> The Reputation of your firm
7 Key Local SEO Ranking Tips For Law Firms
What do you need to do in order to achieve top local rankings?  Here are the key tips you need to use to ensure your law firm is ranking for that all-valuable 3-Pack.
1.       Create Your Google My Business account correctly
It seems basic to say you need a GMB account, but surprisingly many law firms have failed even this first step.  Set it up, but do so ensuring that you are using the very best practices to build on that local relevance and authority.
The initial set-up involves verifying your law firm ownership and then providing up-to-date details about services, location, hours of operations etc, as well as adding logo and images, which help bring your listing to life.  You then need to share regular posts about any special news, content and encourage reviews for the firm.
You also need to use local citations and ensure you have your NAP (name, address, phone number) used consistently.  
Make sure when using your citations and setting them up that you –
Your business name, address, and phone number (NAP)
Description of your law firm
Link to your website
It is extremely important that you ensure that the firm name maintains consistency in all directory listings so they reconcile and display exactly the same information when  you list.
Among the places to ensure you are listed are sites like Bing, Manta, Yext and you can get listed with us at LawFuel too (just email us with the code 'NAP' for a half priced listing deal).
Get Onto Google Maps
You need to get yourslef onto Google Maps and claim the location for your law firm.
While Google My Business will display when the target audience search is made, it is Google Maps at the back that will retrieve the information about your firm and so make sure you set this up properly.
2.       Use 'local' keyword research
Smart keyword research can help propel your firm listing into the 3-pack.
Or check 'bankruptcy lawyer' as below –
A Position Zero ranking will have featured snippets and by optimizing content for it will fast track your ranking in voice so that you appear above the organic listings.
Position Zero uses featured snippets and is the content that Google provides as the top search results because it directly answers a query through their search function.
In voice search, it is everything – the only information actually provided to the user and so – surprise, surprise – it is the Holy Grail for any law firm or other local business achieving that result.
There is no single way you can achieve that Position Zero (regrettably, but unsurprisingly), but use these criteria to give yourself the best ever chance of reaching it –
Relevance: Being the most relevant for a given voice search you need that tailed response.  This is where the NAP information (above) is important, along with access to reviews and relevant content. .
Focus on the featured snippet: You need to make sure your law firm website provides complete and succinct answers to the questions that will bring potential clients to your site.  The 'answers' may be in the early part of a post, your law firm website's FAQ page or elsewhere.
Use schema: Schema is key as it will provide the structure for how the search engines receive your content, organized through Schema.org.
Recent Local Law Firm SEO articles on LawFuel You Need to Know- Check these
ReFuel with the top law news weekly that's fun to read