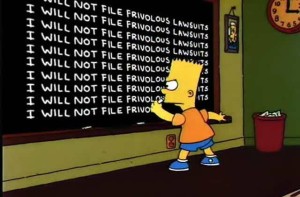 When you're injured from an accident, negligence, or even an attack, chances are you are justified in filing a lawsuit against the wrongdoers. However, when you have a ridiculous case on your hands, suing isn't necessarily the best route to take. Especially when the incident is as bizarre (but entertaining) as these five.
[wp_ad_camp_1]
Sleeping Student's Wake-Up Call
A high school student in Connecticut claimed to suffer from significant hearing loss after a teacher slammed their hand on his desk to wake him up. He had fallen asleep during class.
The boy's parents claimed that for their son to be treated for hearing loss, he had to undergo treatment with ear, nose, and throat specialists. The parents then decided to take legal action against the school.
The boy and his parents faced criticism for the suit and considered having the boy transferred to a private school to avoid ridicule from his peers.
Hot Diggity Dog, That Hurt
An unsuspecting baseball fan got the shock of his life when he was attending a game and was hit in the eye — by a hot dog. During the Kansas City Royals game their mascot, Sluggerrr was throwing hot dogs into the crowd. The fan looked away for a moment and was rewarded with a foil-wrapped hot dog detaching his retina.
Although the stadium covers certain risks concerning flying bats and balls as stated on the event tickets, they had no defense against food tossed to fans. Although the fan lost in his first suit against the stadium, with the jury ruling that being hit by a hot dog is an inherent risk of attending a baseball game, he is awaiting his appeal for a re-trial.
A Visit From Above
While attending an Oklahoma City Thunder basketball game, a man sustained injury when a fellow fan fell from their balcony seat, right on top of him.
The victim (with unknown injuries) sued The Professional Basketball Club LLC, the City of Tulsa, and Tulsa Public Facilities Authority. The man claimed that his injuries caused him pain, suffering, medical bills, and lost wages.
Injured Pride … And Something Else
One groom to be had some explaining to do when he returned from a strip club with a ruptured bladder shortly before his wedding.
While attending a strip club with friends in Pennsylvania, one enthusiastic dancer plunged from her pole and onto the man's abdomen. The impact ruptured the man's bladder, necessitating surgery and causing some nerve damage in his back and hip.
Pass the Coffee and the Cash
Possibly one of the most famous public lawsuits in American history, the case of Liebeck vs. McDonalds, is still referenced, discussed, and ridiculed today. In 1992 a 79-year-old woman purchased a cup of coffee from McDonald's.
When the elderly woman spilled the coffee on her lap she sustained severe burns on her legs. Her claim was that the coffee was not at a temperature that was suitable for serving and posed a risk to customers. After a highly publicized lawsuit, McDonalds and Liebeck settled for an unknown sum, somewhere close to but under $600,000.
Before taking on the time and money to sue for a personal injury, make sure that your case is legitimate. There's nothing more humiliating than a strange suit for the public to ridicule you for, even if you do happen to get a big payout from it.
Annie Babbitt writes about her interest in current events, political science and philosophy. Annie loves helping promote honest injury lawyer in Edmonton like Braithwaite Boyle who will be an advocate for those in need.