The Untold Story Buried in the Shocking and Explosive Allegations Levied by Ex-Partner Don Lewis Against the Pierce Bainbridge Firm, billing itself as 'The Next Generation of Legal Excellence' and a firm self-described as 'the fastest growing law firm in the world'
Dan Garner* The very public fight between former partner Don Lewis and Pierce Bainbridge Beck Price & Hecht ("Pierce Bainbridge") has been a bare knuckles bloody brawl, which has now looped in Putney Twombly Hall & Hirson LLP and Littler Mendelson, P.C., who Lewis alleges have engaged in concerted deceit with his former firm. 
Lewis insists that he was illegally expelled in retaliation for blowing the whistle on alleged financial misconduct discovered months after he joined the firm.
Pierce Bainbridge insists his dismissal is a result of violations of his administrative leave related to allegations of sexual misconduct.    
Pierce Bainbridge Statements to Forbes lead  LawFuel to Investigate the issue further with a desire to look at some of the matters raised by Lewis concerning the firm's alleged illicit financial activity.
An excerpt from a recent piece in Forbes magazine was troubling:
"Lewis alleges Pierce inflated case values, engaged in self-dealing, failed to pay debts as they became due, and manipulated clients with gifts.
Lewis states: "I was illegally expelled for speaking up. UCC liens, filed in March, show a '$9,157,072.95 default' to Pravati. A $9.1 million default, in just two years, is hardly innovative. If used responsibly, which was not the case at my former firm, litigation financing is a fantastic tool to increase access to justice."
Reached for comment on this article, John Pierce, the firm's 'Global Managing Partner', states,
"Mr. Lewis's allegations are not true, as Pravati itself has confirmed. Our firm includes litigation funding in its toolbox in a way that other elite firms do not, which allows us to take on cases that our clients otherwise couldn't pursue. We're leaving behind the supposed conventional wisdom of the established legal marketplace and are practicing law in a more creative and more flexible way. The legal industry is changing, and we're at the tip of the spear."  
Pierce Bainbridge claim it is "not true" when Lewis says the firm defaulted, which raised some curiosity given the specific dollar amount provided by Lewis.
Our investigation revealed UCC lien documents in the names of individual Pierce Bainbridge partners stating:
"Debtor is now liable for the full amount due to Pravati in the amount of $9,157,072.95, for defaulting on the funding agreement between Pierce Bainbridge Beck Price & Hecht LLP and Pravati Capital." 
Filed – UCC Financing Statements
All of which indicates a closer relationship between Pierce Bainbridge and Pravati Capital LLC, than had been indicated earlier.
Pierce Bainbridge Origins and Rapid Growth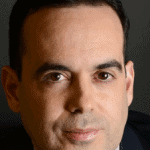 The firm registered in California in January 2017 and was initially named Pierce Sergenian LLP.  The firm publicly entered into a relationship with Pravati in or around March 2017. Co-Founder David Sergenian (pictured left) moved on about a year later.  
Sergenian's departure was attributed to a "more conservative vision for the firm's growth."  A hallmark immodest statement from Pierce in December 2018 (a date to remember) crystallizes Sergenian's concerns:
"We are, by orders of magnitude, I am confident in saying, the fastest-growing law firm in the history of the world in terms of law firms that have started from absolute scratch. . . I would say within five to seven years, we're going to replace Quinn Emanuel as the next dominant global litigation firm, no question."
Sergenian was not alone. 
A widely respected attorney who Pierce attempted to recruit to the firm, Judd Burstein, was also skeptical.  As noted in Lewis's Complaint, in rejecting Pierce's advances, Burstein warned:   
"[John], [t]rying to do what you are doing – build a major NYC firm overnight is hugely risky because you need to attract real talent.  The last person who tried it in NY was Mark Dreier.  He ended up in jail."
His concerns were allegedly echoed by Lewis and Pierce Bainbridge partner Christopher N. LaVigne, who confronted Pierce about "reckless spending" in August 2018. 
Litigation-Funding Fueled Growth . . Or Is It?
The question that arises here is whether Pierce Bainbridge's growth is based on any mishandling or litigation financing funding, as alleged by the Lewis Complaint.
The Lewis Complaint suggests the firm is built on a lie by alleging that there have been gross overvaluations of contingency cases combined with the misuse of litigation financing funds. 
While Pierce Bainbridge was touting its "explosive growth", rapid hiring may have been straining the firm's finances.
The Lewis complaint claims a variety of allegations regarding Pierce ranging from alleged siphoning of funds to failure to file or pay taxes, or debts as they became due, according to communications Lewis allegedly received directly from creditors.
Reckless Behaviour
The Lewis Complaint offers a number of possible reasons why Pierce might have engaged in reckless behavior.
Lewis alleges, and supports with texts, e-mails and Slacks (a cloud-based communications platform used at the firm) that Pierce had expended firm funds in respect of alleged 'brutal' personal credit, 'massive' tax liens, $21,000 monthly alimony payments paid bi-monthly and more.
Lewis further alleges that financial oddities are not unique to Pierce at the top of the firm; Co-Managing Partner James D. Bainbridge was dubbed the ringleader by the Federal Trade Commission in an alleged $80 million scheme directed at the consuming public.   
Law.com says the dispute between the former partners is multi-faceted and being fought on multiple fronts.
Pierce Bainbridge claim Lewis was fired after a staffer accused him of sexual assault and that he violated the terms of his leave, while Lewis has said the firing was in retaliation for his criticism of partner John Pierce's alleged financial shenanigans. (see below).
Lewis first sued Pierce Bainbridge and Putney Twombly in May after months of discussing a potential settlement, withdrew the suit on the same day in hopes of resolving the matter, only to be met by a suit in California state court by his former firm that accused him of extortion, among other things.
Lewis refiled his complaint the next day, and the defendants have sought dismissal. Lewis filed his second suit, claiming defamation, in June against Pierce Bainbridge.
Pierce Bainbridge has said in statements and LinkedIn posts that Lewis was "credibly" accused of sexual assault by a staffer and was terminated for violating the terms of his suspension, issues that have been met with stringent criticism from Lewis over the internal investigation and claims that Pierce Bainbridge had lied to litigation funder Pravati Capital.
In December 2018 (previously identified date to recall), Pierce reportedly failed to pay "guaranteed" quarterly contributions to firm partners and reneged again after promising to make it up in January. 
This occurred despite his claim on February 4, 2019: "capital continues to flood to our platform [we are] now undeniably nothing less than a phenomenon."  (Emphasis added). 
The reported failure to pay Pravati raises the key question of why Pierce Bainbridge failed to pay "guaranteed quarterly" contributions and suffer a Pravati default according to public records. 
Another oddity: in early May the firm announced:  "Kevin Cash, who was chief financial officer for Orrick, Herrington & Sutcliffe, is joining Pierce Bainbridge as its first-ever CFO." 
Yet only five months earlier, Pierce Bainbridge hired John Polizzotto for the CFO position, as reflected in the firm's December 2018 newsletter.  Polizzotto reportedly served in the CFO position for at least four months and the facts surrounding his departure remain unclear.
The Pierce Bainbridge Timeline
Less than one month after Pierce had proclaimed the firm to be a "phenomenon," noting that capital was "flooding in."  The events we've been able to piece together paint a starkly different picture as the following timeline shows:
March 8 – UCC liens appear in the names of Pierce Bainbridge partners LaVigne, Caroline Polisi, Eric M Creizman and Denver G. Edwards.  The Polisi, Edwards and Creizman filings, in their "individual" names, each note an "existing indebtedness of $9,157,072.95."
March 9 – The $9.1 Million Pravati Default.  UCC liens in the names of LaVigne, Polisi, Creizman and Edwards state: "Debtor is now liable for the full amount due to Pravati in the amount of $9,157,072.95, for defaulting on the funding agreement between Pierce Bainbridge Beck Price & Hecht LLP and Pravati Capital." 
On their face, the filings indicated "individual" liability for each of these partners for over $9.1 million. 
March 29 – Pierce Bainbridge enters into a loan agreement per a UCC filing.  There appears to be broad collateral under the agreement including specified (in the unavailable loan agreement) "Case Proceeds".  (The same characterization for collateral appears in two apparently separate loan agreements Pierce Bainbridge entered into on April 26 and May 12, 2019.)
April 1 – Pierce Bainbridge appears to pay down the $9.1 million Pravati Default.
While public records show that the Pravati debt was paid down following a default, and was apparently paid down by securing more loans, Pierce makes the following public statements concerning the firm's relationship with Pravati:     
"[T]he firm paid down that [Pravati] debt regularly over the course of many months." — Pierce Bainbridge Ends Relationship with Partner Pravati, Sam Reisman, Law360, May 17, 2019
• "[The Pravati] investment was closed out in the ordinary course of business." — Lit Funder Pravati and Pierce Bainbridge End Partnership, Meghan Tribe, Bloomberg Law, May 17, 2019)
• "[Pierce Bainbridge] loves making millions of dollars for the amazing litigation funders we have worked with and we always will." — Pierce's LinkedIn page, May 17, 2019.
The true story behind Pierce Bainbridge remains to be told, but the reader of the court filings and public records is left with the uneasy feeling that this story is not the one Pierce Bainbridge is feeding the public.
There is much about the litigation funding environment that is good, but there is also much that is "Murky" as Forbes wrote recently in relation to litigation funding issues and ethics.
"Litigation funding needs to be symbiotic for clients, attorneys, law firms, and funders. In order to arrive at clarified ethics rules and unambiguous bar opinions to govern, guide, and oversight the litigation financing landscape, the existing murky environment needs to be addressed via legislation."
Let us hope that the story of Pierce Bainbridge does not become a litigation finance cautionary tale with a very unhappy ending.
*Dan Garner is a freelance legal writer and LawFuel contributor. 
Who IS Don Lewis?
Don Lewis is a former commercial litigator at Skadden Arps and WeWork attorney who is currently practising from his own firm at Don Lewis Law.  Regarded as a feisty-but-fair litigator and hyper-connected attorney he is currently fighting three law firms: Pierce Bainbridge, Putney Twombly Hall & Hirson LLP and Littler Mendelson PC.
As Forbes reported –  A recent suit filed by Don Lewis, a former partner, levies explosive and detailed allegations of serious financial improprieties. Lewis alleges Pierce inflated case values, engaged in self-dealing, failed to pay debts as they became due, and manipulated clients with gifts.
An article in LegalDesire quoted Lewis in high battle with Pierce Bainbridge:  "My mother came from the most meager of upbringings in Jamaica and sacrificed everything, as did my father, so I could become a successful professional with two Harvard degrees.  I followed my parents' example and worked hard. I brought my work ethic to Pierce Bainbridge where I learned from firm employees that John Pierce was drowning in debt and booze and the firm was dysfunctional…  When I tried to do the right thing for the firm and our clients and put a stop to his financial wrongdoing, Pierce and his lackeys fabricated allegations against me to cover-up his fraud and ruin my reputation, career and livelihood."