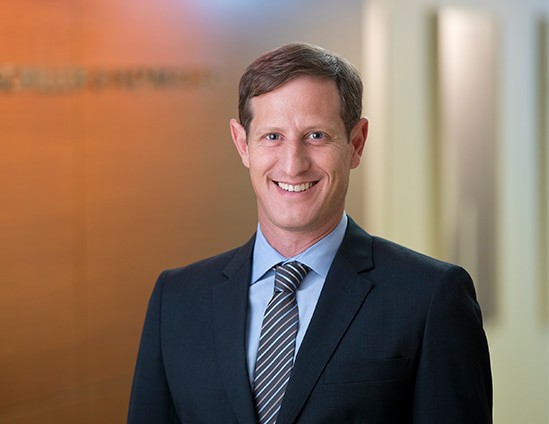 BSF has named new Administrative Partners and Deputy Administrative Partners to help lead five of its largest offices: New York, Washington D.C., Albany, Los Angeles, and Oakland.
These new appointments will include the management of two new state-of-the-art BSF office spaces in New York City and Washington D.C., which opened in February 2019 and January 2017 respectively.
"The appointment of additional Administrative Partners across five BSF offices is a testament to the continued strength and growth of our Firm," said BSF Management Committee member Damien Marshall. "Each of these talented firm leaders represents the gold standard of our profession and we are grateful for their leadership in our offices."
Andrew Michaelson (pictured) will serve as Administrative Partner in New York City. Michaelson is an accomplished SEC and white collar defense practitioner, known for successfully representing clients in high stakes government investigations and civil litigation. He previously served in government with both the SEC and the U.S. Attorney's Office for the Southern District of New York, where he led the Galleon insider trading investigation and prosecuted numerous securities and wire fraud cases. Michaelson also served as trial counsel in U.S. v. Rajaratnam, the high-profile criminal trial resulting in the conviction of Raj Rajaratnam.
Michaelson will be joined by Deputy Administrative Partners Eric Brenner and Leigh Nathanson. Nathanson, who's been named a Rising Star by the New York Law Journal, has been recognized for her work representing Barclays in litigation involving the London Interbank Offered Rate, her representation of daily fantasy sports operator DraftKings, and her skill at trying cases. Brenner, a proven trial lawyer who has successfully litigated complex commercial cases involving antitrust, securities, partnership and intellectual property disputes, has also been recognized for his work advising hedge funds and investment firms regarding litigation matters.
BSF has named Kathleen Hartnett and Quyen Ta as joint Administrative Partners to lead the firm's Oakland, California. Hartnett is widely recognized for her work in high-stakes civil litigation, investigations, and for providing superior strategic counsel to clients at the intersection of litigation and high-profile public policy. She joined BSF in 2016 following five years in the Obama Administration at the White House and Department of Justice, where she defended hundreds of cases involving novel issues of law. Hartnett will lead the Oakland office together with Quyen Ta, a widely recognized litigator known for her winning track record and significant contributions to the legal community. Ta's practice focuses on consumer class action defense, intellectual property, and other high-stakes litigation. She joined BSF in January 2018 to help lead the firm's growing California practice.
David Willingham will lead BSF's Los Angeles office along with Chris Caldwell, who assumed the role following BSF's acquisition of Caldwell Leslie in 2017. Willingham specializes in white collar criminal defense and complex litigation matters and leads the firm's West Coast Global Investigations and White Collar Defense practice. Caldwell has built an extensive practice encompassing all aspects of criminal and civil litigation. Splitting his time between serving as a plaintiffs' lawyer and a defense lawyer, he focuses on cases in real estate, the entertainment industry, intellectual property, securities, employment, professional liability, and white collar crimes. Prior to joining BSF, Caldwell co-founded the Los Angeles litigation boutique, Caldwell Leslie & Proctor.
In Washington D.C., Robert Cooper will serve as joint Administrative Partner alongside Amy Mauser, who assumed the role in 2015. Cooper is nationally recognized for successfully representing clients in complex commercial litigation and government investigations, and counseling global companies on their most challenging and significant business issues. Mauser's practice focuses on complex commercial litigation and antitrust law. She has represented Fortune 500 companies in antitrust matters in federal and state courts, both as defendants and plaintiffs, at the trial and appellate levels. As Administrative Partner, Mauser has overseen the expansion of the firm's Washington D.C. office, including last year's move to a new downtown office space.
Phil Iovieno will serve as a Deputy Administrative Partner in BSF's Albany office, working with current administrative partner George Carpinello. Iovieno, named a 2018 National Practice Area Star by Benchmark Litigation, has extensive experience representing plaintiffs and defendants in antitrust and other complex litigation matters. In addition to serving as Administrative Partner, Carpinello is Chair of the New York State Advisory Committee on Civil Practice, which advises Chief Judge and Chief Administrative Judge of the state on changes in New York's civil practice. Carpinello has litigated a multitude of cases in federal, state and bankruptcy courts across the country, spanning several practice areas, including securities fraud, intellectual property, antitrust, civil rights, and more.