So have you ever wondered about lawyers-who-were?  That is, the rich (mostly) and famous who were once lawyers?
Bloomberg Law put together the list of famous people who were in Big Law before fame hit them, so we have to acknowledge the people at Bloomberg's BNZ Knowledge Services who helped put the information together.
Among the list:
Michelle Obama – which might explain the splendor of her speech at the Democrat Convention.
"(She) went on to earn her Juris Doctor (J.D.) degree from Harvard Law School in 1988. By the time she applied for Harvard Law, biographer Bond wrote, her confidence had grown; "This time around, there was no doubt in her mind that she had earned her place". Her faculty mentor at Harvard Law was Charles Ogletree, who has said that she had answered the question that had plagued her throughout Princeton by the time she arrived at Harvard Law, of whether she would remain the product of her parents or keep the identity she had acquired at Princeton, believing that she concluded she could be "both brilliant and black."
Megyn Kelly – Fox 'Trumptess' and sharp host of 'The Kelly File'.
"Kelly was an associate in the Chicago office of law firm Bickel & Brewer LLP, during which time she co-wrote an article for the American Bar Association's journal, Litigation, called "The Conflicting Roles of Lawyer as Director".[9] She later joined Jones Day for nine years."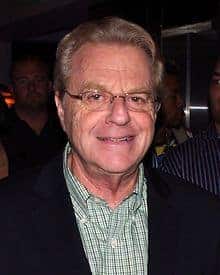 Jerry Springer – TV Talk show host.
"Springer earned a B.A. degree from Tulane University in 1965, majoring in political science.[9] He earned a J.D.degree from Northwestern University in 1968.Springer was a partner in the law firm of Grinker, Sudman & Springer from 1973-1985, alongside former NBA agent Ronnie Grinker (d. 1997) and current Butler County magistrate Harry Sudman.
Springer became a political campaign adviser to Robert F. Kennedy. After Kennedy's assassination, he joined the Cincinnati law firm of Frost & Jacobs, now Frost Brown Todd."
>> Watch the video for more . .