Personal injury attorney Terry Crouppen, half of the Missouri firm Brown and Crouppen has used a Super Bowl ad to slam Rams owner, billionaire Stan Kroenke.
The 30 second ad is to air during Super Bowl 50 and the attorney provides some advice to "Silent Stan" Kroenke and defends the loyal Rams fans, telling Kroenke that they were always loyal to their football team in St Louis, cheering them "year after losing year" after drinking their overpriced beer.
"In return they trashed us, then left us."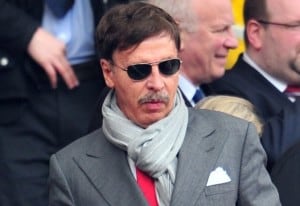 'Is 8 billion dollars not enough for Stan'? he asks.  "Well here's some free advice, just because it's legal and you're rich enough to do it, that doesn't make it right."
Croupen founded his law firm in 1979, claiming he "must have watched too much Perry Mason on television."  But he did take from those old shows that "lawyers could make thing right."
And therein lies the thrust of his "free advice" to Stan Kroenke.
Related articles across the web