Big Law and big money seem to go together like bacon and eggs, but the massive profit margins that are often touted are false.
So says American Lawyer writer Chris Johnson, lead ALM reporter in Europe with a detailed knowledge of the legal business and who penned an article for AmLaw that described the disparity between what is published and what is the truth.
Johnson points out that while the average profit margin for the AmLaw Global 100 is 39 per cent (with the highest margin being 69 per cent for Quinn Emanuel Urquhart & Sullivan) the reality is quite different.
The average profit margin, rather than being multiples of massive commercial success stories like Apple Inc, is quite different.  In fact, Johnson says it is more like 15 per cent – if anything at all.
How so?  Particularly when we all know that law firms have few fixed costs beyond their staffing costs and office rent.
As he explains –
The crux of this issue is the way that equity partners are compensated. Traditional law firm partnership structures are effectively unable to retain any earnings at the end of each fiscal year. Except for any planned investments, all remaining profit—what the Am Law 100 and Global 100 surveys refer to as "net income"—is distributed among the equity partners in full.

Compared to companies in other industries, this gives law firms an artificially high profit margin, since from an accounting perspective, equity partners receive no above-the-line salary and therefore represent no cost to the business. It also means that the most popular metrics used to assess law firm profitability—profit margin and average profit per equity partner (PEP)—are susceptible to distortion by leverage.
The Example
The example given is for two firms of 100 partners that generate identical revenues, the difference being that Firm A has 90 equity partners and 10 associates, while Firm B has 10 equity partners and 90 associates.
If the associate salaries and costs are the same for both firms, then 'A' will appear considerably more profitable than 'B' because the 10 associates are the only thing affecting its bottom line, rather than 'B's' 90 associates.
A more accurate way to assess profitability is regarded as being the profits per equity partner (PEP) metric, although problems can still exist there, too.
The Solution?
The solution offered is to assign notional salaries and deduct this cost from net income, thus leaving 'true' profits.
It's a technique that Johnson experimented with when preparing another AmLaw article, as he explains –
It formed part of a formula I created back in 2012 to value law firms as businesses as part of an article in The American Lawyer. I used a market-wide equity partner salary cost set at 50 percent of each firm's net income, which left a cash flow that was then subject to a multiple that varied depending on the firm's size, its historic growth rates in revenue and profits, and its brand strength.

It was an imperfect and somewhat broad-stroke approach that was more designed to shed light on the issues an investor would face when analyzing a law firm target, rather than to provide precise valuations. (For those interested in the results, Kirkland & Ellis narrowly edged out Latham & Watkins as the world's most valuable law firm, with a business worth just shy of $4 billion. Quinn Emanuel was the clear leader by value per equity partner, with the effective stakes held by its owners worth more than $17 million on average.)
Another Way?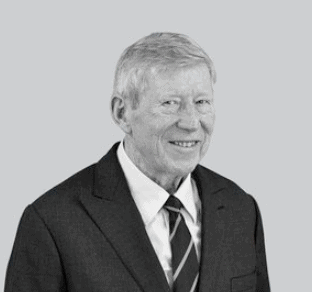 He spoke with London-based Alan Hodgart (left) about the issue, who also had a solution, which involves adding a  25-30 percent premium to each firm's highest-paid salaried fee-earner, or matching the compensation packages offered to general counsel at the firm's core clients.
Using the Hodgart formula a top firm's partner salary would be around USD1 million, which would also dramatically alter the American Lawyer's law firm financial survey results.
Assigning a salary cost of $1 million per equity partner sees Latham & Watkins' profit margin fall from 50 percent to 34 percent; Linklaters' drop from 46 percent to 24 percent; and Jones Day's crash from 49 percent to just 2 percent.
And the high profitability rate is something that has seen firms shooting themselves in the foot by publishing artificially high profit margings that fail to account for the cost of equity partners, according to Alan Hodgart.
 "Clients see these results, compare them to those of their own business, which are usually much lower, and wonder why they are paying such high fees," he said.
The question therefore arises as to whether firms need to reconsider the way they measure law firm profitability.  Whether that happens any time soon is yet another question.