The LawFuel Law Job Large Firm Survey – And NZ Law Salary Details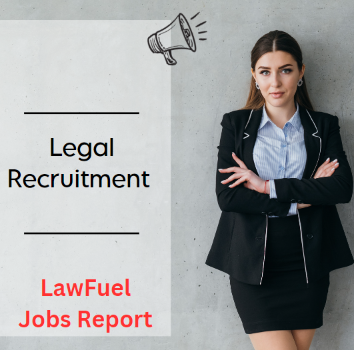 A LawFuel survey of New Zealand's largest law firms shows an apprehension if not nervousness about the economic situation, leading to a slowdown in recruitment activity.
Although there have been overall positive responses towards New Zealand law job prospects in areas like corporate and commercial law, banking and finance, property law and other areas, the looming election, economic woes, a slowdown in activity and post-COVID issues have all had their impact upon employment prospects.
"We're holding fire" on new recruits, one HR manager said, although the firm remained busy it was largely maintaining a holding pattern so far as new jobs were concerned.
That view largely reflected the views of the LawFuel survey for New Zealand law job prospects of those who responded to the survey of the largest and mid-sized law firms in the country.
The large firms, although advertising their summer programmes, remain largely cautious about future employment prospects. One major firm noted that they remain as they always have in being interested in talking with "talented lawyers and non-lawyers about their career aspirations."
Many firms believe their lawyer numbers will remain much the same, although none actually indicated they were reducing staff numbers although anecdotal reports from some firms indicates that numbers have reduced.
An improvement in lawyer salaries over recent years has also seen lawyers focusing upon career progression and keeping senior lawyers on a career path with the firms. Some of the recent salary levels are shown below.
Several of the large firms said that they were largely focusing on keeping their people and maintaining their position in the market without overstretching themselves in an uncertain period. While replacement staff and specialist recruitment remained top-of-mind for many, they were generally adopting a cautious approach in the current political and economic climate.
Anderson Lloyd's Kelly Pankhurst said there might be some slight reduction in some departments but it depends upon the PQE level of applicants as to who might be employed.
Overall, many firms remain in the pre-Covid situation, with lawyers moving overseas, particularly those in the 2-3 years experience area, which continues to place some recruitment pressures upon them.
Law Job Summer Programmes
But the development of summer programmes has helped plug gaps for firms wanting good lawyers, while lifestyle factors were also seeing senior lawyers moving to provincial areas to the larger firms like Tompkins Wake, Holland Beckett, Anderson Lloyd, and others providing opportunities for both stimulating work and a more accommodating lifestyle than that on offer in the larger centres.
A spokesman for Buddle Findlay said that the firm was focused on litigation roles and the ability to help develop lawyers' career development.
"A general challenge for lawyers will no be career progression considering salaries have increased over the last few years and are much better than they were before. To that extent, much of our focus is on delegating good work to people, facilitating their grown and learning, and developing a career plan with our people," he said.
According to the SEEK job site, the average legal salary in New Zealand is around $90,000.
We have attached recent job data below.
Invercargill-based AWS legal, a 19 partner firm with over 50 fee earners working has indicated they will be keeping their numbers and recruiting only to replace a small number of recent resignations.
The overall trend for a flattening of the legal market continues to dominate the legal market, other than the buoyant in-house legal market, which continues to demonstrate steady demand for mainly more senior lawyers seeking work with corporates, government agencies and ministries, NGOs, and others.
The LawFuel legal jobs site continues to list a strong number of in-house roles and has certainly noticed the increase in jobs in this sector, reflecting the fact that one-third of the qualified lawyers are now corporate lawyers.
Specialization demand
There is however a continuing demand for lawyers with specialist skills in areas like technology, intellectual property, family, employment and environmental law, which are all areas that continue to show strong demand.
While the October election will doubtless provide a boost to recruitment activity, the ongoing economic situation will also continue to have a dampening effect upon law jobs in the areas most affected by the economic slowdown.
New Zealand Law Salaries:
According to Talent.NZ the average lawyer salary in New Zealand is $84,047 per year or $43.10 per hour. Entry-level positions start at $70,753 per year, while most experienced workers make up to $123,178 per year, according to their figures.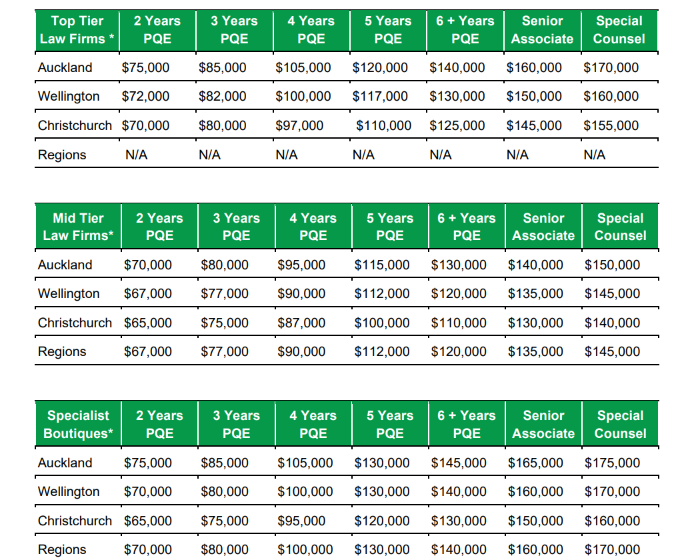 Source: Tyler Wren salary survey 2021-2022
The figures from Global Legal Post on legal salaries (Auckland) are:
| | | |
| --- | --- | --- |
| PQE | Min | Max |
| 0-1 | $50,000 | $65,000 |
| 1 | $60,000 | $70,000 |
| 2 | $70,000 | $80,000 |
| 3 | $80,000 | $90,000 |
| 4 | $90,000 | $115,000 |
| Senior associate | $130,000 | $195,000 |
| Partner (salaried) | $205,000+ | |
| Partner (equity) | $325,000+ | |