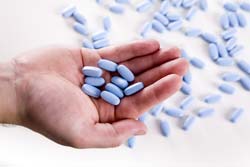 LOS ANGELES – Three members of a Rowland Heights family involved in a home-based enterprise that manufactured a "male enhancement" drug that sold on the Internet and in retails stores nationwide have been sentenced for unlawfully importing tadalafil, the same active ingredient in the prescription drug Cialis.
Won Bae Kim, 61, was sentenced on Wednesday to 11 months in federal prison.
[wp_ad_camp_2]
Two sons, Jong Ik Kim, 35, and Jong Heon Kim, 34, each were sentenced to one year probation, which will include six months of home detention.
The Kims were sentenced on Wednesday by United States District Judge Dean D. Pregerson, who also ordered Won Bae Kim to pay a $10,000 fine.
According to court documents, Won Bae Kim started a business named Kawa Health and imported pounds of tadalafil from China, which were used to manufacture a male enhancement drug that Kawa Health marketed under the name "Xzen 1200." The tadalafil packages were delivered to commercial mailbox facilities, where the Kims were able to pick them up. After the Xzen 1200 pills were manufactured, Jong Ik Kim and Jong Heon Kim sold the drugs across the country, including to adult book stores. The packaging for the drugs did not disclose that tadalafil was an ingredient, which prompted the U.S. Food and Drug Administration to issue a warning about the product earlier this year. The investigation revealed that the Kims generated sales of more than $300,000 over a one-year period.
The operation was disrupted when U.S. Customs and Border Protection officials found that overseas packages intended for one of the mailboxes contained tadalafil. Agents of Department of Homeland Security's Homeland Security Investigations then followed the delivery of the packages to a mailbox, when Won Bae Kim picked them up. Agents followed him back to his home and executed a search warrant, where they discovered large amounts of pills and packaging material for the Xzen product, as well as $13,000 in cash, which has been forfeited.
CONTACT: Assistant United States Attorney Ronald Cheng
Cyber and Intellectual Property Crimes Section
(213) 894-8644
Release No. 13-139