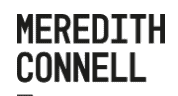 LawFuel says – 
Meredith Connell has long changed since its days as Crown Solicitor, which it retains, but which has seen strong growth in its work as a commercial law firm.  Graduates report favourably on the culture and work quality the firm produces with generally generous pay scales and benefits.
Meredith Connell says – 
Summer Clerking  – 
Applications are invited from anyone in their last or penultimate year of study. Because the programme involves working part-time in either our Wellington or Auckland offices, it is realistically only available to Victoria and Auckland students.
Places are strictly limited and successful applicants will need to exhibit real exceptionality. That exceptionality should include demonstrated academic excellence and notable non-academic achievements in the arts, sports, cultural, leadership or otherwise.
Applications close Friday 22 March 2019
Interviews begin mid April.
Internships commence late April/early May.
Money – 
Year One – TBA
Pay Scale report – 
Gender Diversity – 
(Females to Male Partners/Directors as at LawFuel survey 2017)
23 per cent
Benefits –