LawFuel.com – Personal Injury Law Firm News –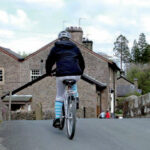 With data from the Department of Transport showing a slight rise in the number of cycling accidents leading to deaths, serious injuries and road traffic accident claims, with this increase coinciding with lower motor vehicle accident rates for other road users, personal injury solicitors and other organisations are calling for the government to make further investments in road safety for cyclists.
The Reported Road Casualties in Great Britain Annual Report 2012 found that while 107 cyclists lost their lives in 2011, this figure increased by 10% over the year to reach 118 in 2012. Furthermore, the number of cyclists who were seriously injured in road accidents reached 3,222, representing the eighth consecutive year in which this figure has increased.
The Royal Society for the Prevention of Accidents (RoSPA) has therefore called for better standards of driver awareness, better levels of cyclist training provision, and improved road safety for cyclists. Personal injury solicitors recognise that this could reduce the number of cycling accidents and encourage people to take up healthy, eco-friendly cycling as their main method of transport.
Why is the number of cycling road traffic accident claims increasing?
A number of factors have lead to the perpetual increase in the number of road traffic accident claims involving cyclists.
Cycling has become an increasingly popular way for people to get around, with the squeeze on incomes encouraging people to leave their cars at home or sell them, with an increasing focus on eco-friendliness encouraging people to be aware of their greenhouse emissions, and with an increasingly sedentary lifestyle and a lack of free time seeing people cycling to work as part of their exercise regime.
However, many cyclists are unprepared for the roads and pay little attention to their personal safety. Some cyclists fail to wear helmets or high-visibility clothing, or do not know how to overtake HGVs and lorries safely.
Furthermore, many car drivers are unprepared for cyclists on the road, do not know how to overtake cyclists safely, or fail to indicate or check for cyclists on the inside when turning. In fact, some road users dislike cyclists intensely, and this animosity can significantly increase their likehood of being involved in a road traffic accident claim.
Ways to prevent cyclist road traffic accident claims
RoSPA called for the creation of cycle tracks and lanes, the introduction and linking of quieter streets, such as through establishing a larger number of 20mph zones, and the development of cycling routes through parks and alongside rivers and canals.
Furthermore, drivers should be told to keep their speed down, to provide plenty of room for cyclists and to watch out for people on bikes, while cyclist training provisions should be improved and road conditions should be improved to prevent cycling road traffic accident claims.
"We need to redouble our efforts" to reduce cyclist injuries and deaths, RoSPA head of road safety Kevin Clinton said, highlighting the increasing popularity of cycling as a reason to do so.
Steacy Aston
Steacy Aston loves driving her Toyota Avensis around the country lanes in Lancashire and seeing the beautiful sights of the county. She also looks into Personal Injury solicitors Preston and motor vehicle accident compensation claims for a team of car accident solicitors, which makes her a keen advocate of safe driving and improvements to the UK's roads.