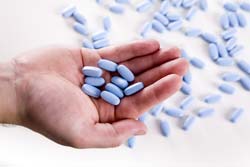 SANTA ANA, California – A Santa Barbara physician was remanded into custody this morning after he pleaded guilty to 11 federal drug trafficking charges for writing prescriptions for powerful painkillers for "patients" who were drug addicts.
[wp_ad_camp_1]
Julio Gabriel Diaz, 65, who operated the Family Medical Clinic in Santa Barbara prior to his arrest two years ago, pleaded guilty to 10 counts of distributing controlled substances without a legitimate medical purpose and one count of distributing controlled substances to a minor (which, under federal law, is a person under 21).
Diaz pleaded guilty before United States District Judge Cormac J. Carney, who is scheduled to sentence the defendant on June 2. Diaz, who will be held in jail until his sentencing, faces a maximum statutory sentence of 200 years in federal prison and fines of up to $10 million.
"Dr. Diaz was, quite simply, acting as a common drug dealer," said United States Attorney André Birotte Jr. "The diversion of powerful painkillers from legitimate medical uses to the hands of drug abusers is a dangerous practice that fuels addiction and causes overdoses. Far too many of the illegal prescription drugs that find their way to street users come from doctors who, like Julio Diaz, choose to betray their Hippocratic oath."
In a plea agreement filed last year in United States District Court, Diaz admitted distributing narcotics such as oxycodone, methadone, hydrocodone, alprazolam, fentanyl and hydromorphone in 2009 and 2010. Diaz admitted that he distributed or dispensed the narcotics "while acting and intending to act outside the usual course of professional practice and without a legitimate medical purpose."
        Court documents previously filed in this case, as well as civil lawsuits, link Diaz to fatal drug overdoses. However, he was not specifically charged with causing any deaths, nor did he specifically admit causing any deaths during today's hearing.
The investigation into Diaz was conducted by the Drug Enforcement Administration and the Santa Barbara Police Department, which received the assistance of the California Medical Board.