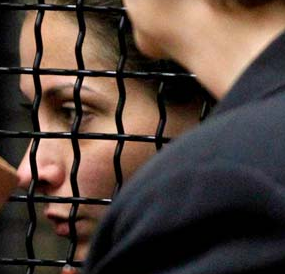 Meshael Alayban, 42, is a Saudi Arabian princess, but she's now facing a felony count of human trafficking and a multi-million dollar bail bond and GPS tracking as a result of an accusation that she held a domestic servant against her will in her California apartment.

She appeared in court in Santa Ana on Thursday when her arraingment was continued until July 29, but her status as a prisoner rather than princess was exemplified by her being kept in a cage-like holding pen, speaking through her lawyer.
If convicted, Alayban faces a maximum sentence of 12 years, said Orange County District Attorney Tony Rackauckas.
Court details indicate that  Alayban is one of the wives of Saudi Prince Abdulrahman bin Nasser bin Abdulaziz al Saud.
Alayban is being held in the Orange County jail in lieu of $5 million bail.
The woman who is the subject of the charge evidently  signed a two-year contract with an employment agency guaranteeing she would be paid US$1600 a month to work eight hours a day, five days a week.
But starting in March 2012, she was forced to cook, clean and do other household chores for 16 hours a day, seven days a week, and was paid only US$220 a month, prosecutors said.