It's not every lawyer who has his own radio show, but for prominent California immigration attorney Shah Peerally he has not only had one, but it is now entering its sixth successful year on air.
The Shah Peerally Law Show is celebrating its fifth year hosting a unique law show on KLOK 1170.  The show has been a welcome source of advice and information for immigrants' rights and related issues and is also available nationally through the internet.
Aired regularly on Monday 12p to 1pm and Thursday 10am to 11am, the program has actually  assisted thousands of listeners understand some very complex immigration questions. In addition, the shows have been instrumental in advocating and protecting immigrants' rights such as the Tri Valley University (TVU) students who were victims of an unfair treatment by the school and "abuses" by the authorities.
The la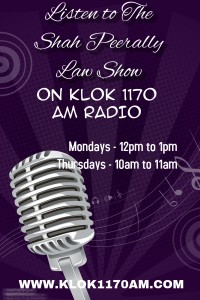 w shows were one of their first ways of guidance and actually advocated for their protection.  In fact it did make a difference, prompting higher interventions and oversight on the treatment of the victimized students.
Just soon after the TVU saga, Shah Peerally  took an interest in the issues related to the H4 Visa holders, advocating for a work permit on their behalf. The law program again became a major tool advocating and defending the rights of the oppressed H4 visa holders. Ultimately the law was changed in 2015 allowing a work permit for some of the  H4 visa individuals.
Recently the law show has been encouraging the government to reduce the waiting time on the EB2 and EB3 waiting time for Indian Nationals.
Today the Shah Peerally Law Show is still being praised for its unique quality of information. Moreover, the immigration radio program is also being heard nationwide through the internet live streaming.
There will doubtless be many more years of successful broadcasting for t his innovative lawyer who has not only achieved significant victory for thousands of immigrants, but who also champions their cause in a fearless way across multiple media channels – his radio show being but one of them.