DEAN SKELOS, FORMER NEW YORK STATE SENATE LEADER, SENTENCED TO 51 MONTHS, SON ADAM SKELOS SENTENCED TO 4 YEARS IN MANHATTAN FEDERAL COURT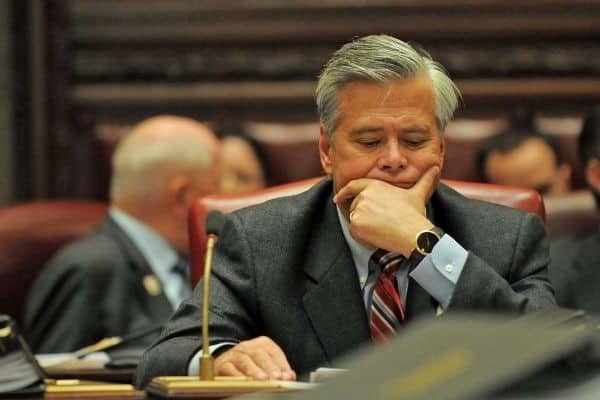 Robert Khuzami, Attorney for the United States, acting under authority conferred by 28 U.S.C. § 515, announced today that former New York State Senate Majority Leader DEAN SKELOS was sentenced today to 51 months in prison after having been found guilty by a federal jury of using his official position to obtain more than $300,000 in bribes and extortion payments that were paid to his son, ADAM SKELOS, in exchange for DEAN SKELOS's official acts.  ADAM SKELOS, who was convicted by the same jury, was also sentenced to four years in prison.  The defendants had previously been found guilty of the same offenses by a jury in December 2015, but their convictions were overturned by the U.S. Court of Appeals for the Second Circuit as a result of the Supreme Court's decision in McDonnell v. United States. DEAN SKELOS and ADAM SKELOS were sentenced in Manhattan federal court by U.S. District Judge Kimba M. Wood, who also presided over both jury trials.  
Deputy U.S. Attorney Robert Khuzami said:  "Former State Senate Majority Leader Dean Skelos was entrusted with enormous power and responsibility, power a unanimous jury of his peers has now concluded for a second time that Skelos repeatedly abused in pursuit of illegal payments to his son, Adam Skelos.  The sentences imposed today are but a small down-payment to correct the damage they did to our citizens' faith in state government.  At the same time, these same citizens can have faith that those who abuse the public trust for their personal benefit will be caught and sentenced to substantial prison terms."
In imposing today's sentence of DEAN SKELOS, Judge Wood found that he had lied during his testimony at trial, and cited several examples of DEAN SKELOS's dishonesties.  Judge Wood increased his sentence to account for his false testimony.
            According to the evidence introduced at trial, court filings, and statements made in Manhattan federal court:
From 2011 to 2015, DEAN SKELOS served as Majority Leader and Co-Majority Leader of the New York State Senate, a position that gave him significant power over the operation of New York State government.  DEAN SKELOS repeatedly used this power to pressure companies with business before New York State to make payments to his son, ADAM SKELOS, who substantially depended on these companies for his income.  DEAN SKELOS and ADAM SKELOS were able to secure these illegal payments through implicit and explicit representations that DEAN SKELOS would use his official position to benefit those who made the payments, and punish those who did not.  In total, DEAN SKELOS obtained over $300,000 in payments to ADAM SKELOS through persistent and repeated pressure applied to senior executives of three different companies that needed legislation passed in the New York State Senate and other official actions from DEAN SKELOS. 
The Glenwood Scheme
Beginning in late 2010, and continuing for approximately two years, DEAN SKELOS repeatedly solicited payments for ADAM SKELOS from representatives of Glenwood Management Corp. ("Glenwood"), a major New York City real estate company.  DEAN SKELOS's solicitations for payments to ADAM SKELOS took place during the same meetings when Glenwood's representatives were asking for DEAN SKELOS's assistance with New York State legislation that was crucial to Glenwood's profitability.  As a result of the sustained pressure from DEAN SKELOS, representatives of Glenwood arranged for a $20,000 direct payment to ADAM SKELOS and further arranged for Abtech Industries ("Abtech"), an Arizona-based storm water technology company in which Glenwood's founding family owned a stake, to make $4,000 monthly payments to ADAM SKELOS.  Glenwood arranged for these payments to ADAM SKELOS due to the company's substantial dependence on DEAN SKELOS for real estate tax abatements and other real estate legislation favorable to Glenwood, and based in part on statements from DEAN SKELOS that he would punish those in the real estate industry who defied him. 
The Abtech Scheme
After successfully obtaining ADAM SKELOS's Abtech consulting contract for $4,000 per month, DEAN SKELOS assisted Abtech in causing Nassau County to issue a request for proposal ("RFP") for a public works project that was tailored to Abtech's storm water technology.  DEAN SKELOS and ADAM SKELOS then threatened to use DEAN SKELOS's official powers to block Abtech's bid for the RFP unless the company sharply increased ADAM SKELOS's payments.  Abtech ultimately agreed to increase ADAM SKELOS's payments to $10,000 per month because the company feared that, if it did not meet the defendants' demands, it would lose the Nassau County contract that was critical to its business.  In return for the payments to ADAM SKELOS, and to ensure that they would continue, DEAN SKELOS facilitated the approval of Abtech's $12 million contract with Nassau County and thereafter took numerous additional official actions to benefit Abtech. 
For example, when Abtech and ADAM SKELOS believed Nassau County was insufficiently funding the company's project, DEAN SKELOS pressured Nassau County officials to make additional funds available.  In January 2015, DEAN SKELOS was intercepted in a call with the Nassau County Executive in which he asked for an explanation for the lack of funding, complaining on behalf of ADAM SKELOS that "somebody feels like they're getting jerked around the last two years."  The next day, DEAN SKELOS traveled with the County Executive and his Deputy to the funeral of a New York City Police Department officer, where DEAN SKELOS reiterated in person his demand that the County expedite payments to Abtech. 
            DEAN SKELOS also used his official position in an attempt to direct a portion of a $5.4 billion sum that the State had recovered in litigation with financial services companies (the "Settlement Funds") in a way that would benefit water projects and contracts that were being pursued by Abtech.  For example, at the same time ADAM SKELOS was attempting to obtain additional Abtech storm water projects with local municipalities by claiming that the projects could be funded through State funds, DEAN SKELOS was advocating for a portion of the Settlement Funds to be allocated for storm water projects. 
            DEAN SKELOS also used his official position in an attempt to enact State "design-build" legislation that was being sought by Abetch and that Nassau County officials had explained was necessary to implement fully the $12 million contract with Abtech.  Nassau County officials provided DEAN SKELOS with proposed legislation that DEAN SKELOS stated he would support if backed by the Governor.  In a recorded call on ADAM SKELOS's "burner" phone, ADAM SKELOS told a representative of Abtech that DEAN SKELOS had privately assured ADAM SKELOS that DEAN SKELOS was "going to be sure that [the design-build legislation] gets done."  Later, ADAM SKELOS told Abtech's representatives that while design-build legislation would not be enacted as part of the April 2015 budget process, DEAN SKELOS would continue to pursue it in the legislative session continuing through June 2015.  The defendants were arrested in May 2015 before their plan to enact the legislation could be completed.
The PRI Scheme
During the same time period as the Glenwood and Abtech schemes, DEAN SKELOS pressured yet a third company, called Physician Reciprocal Insurers ("PRI"), to pay ADAM SKELOS.  PRI is a major medical malpractice insurance firm, whose existence depends on New York State legislation that exempts the firm from being liquidated even though its liabilities exceed its assets.  Similar to the Glenwood scheme, DEAN SKELOS solicited payments to ADAM SKELOS from PRI during the same conversations when PRI was seeking DEAN SKELOS's support for the extension of this legislation that was critical to PRI's business. 
In response to the pressure from DEAN SKELOS to find sources of payment to ADAM SKELOS, PRI agreed to, among other things, give ADAM SKELOS a full-time job with benefits.  Even though ADAM SKELOS was expected to work 40 hours per week, he treated his PRI position as a "no show" job from the outset of his employment.  When ADAM SKELOS's supervisor told ADAM SKELOS that he was expected to show up to work, ADAM SKELOS berated him and told him "[g]uys like you . . . couldn't shine my shoes. . . . And if you talk to me like that again, I will smash your fucking head in."  When the CEO of PRI told DEAN SKELOS that ADAM SKELOS was not showing up to work and was mistreating the other employees, DEAN SKELOS expressed no concern about ADAM SKELOS's conduct and simply told the CEO to "[w]ork [it] out."  Based on this conversation, among others, the CEO understood that if he did not continue to pay ADAM SKELOS, despite his non-performance and misconduct at work, he was risking DEAN SKELOS taking legislative action against PRI.  Later, when former Senator Alphonse D'Amato, one of PRI's lobbyists, reiterated to DEAN SKELOS that ADAM SKELOS was not showing up to work and was being disruptive when he actually did show up, DEAN SKELOS also dismissed Senator D'Amato's concerns and told him that ADAM SKELOS needed the income and benefits from PRI.
DEAN SKELOS did not inform any of the companies he pressured to pay ADAM SKELOS that, between 2011 and 2014, ADAM SKELOS was making between $230,000 and $441,000 per year.   
            During the time period that PRI was paying ADAM SKELOS, DEAN SKELOS repeatedly voted to extend PRI's legislative protection from liquidation as well as other legislation that was being sought by PRI.
*                      *                      *
In addition to the prison sentence, Judge Wood ordered DEAN SKELOS, 70, of Rockville Centre, New York, to pay a $500,000 fine.  DEAN SKELOS also was sentenced to one year of supervised release.  In imposing a fine on DEAN SKELOS, Judge Wood took into account the tax-payer funded pension that DEAN SKELOS would be receiving.  In addition to the prison term, Judge Wood sentenced ADAM SKELOS, 36, also of Rockville Centre, to three years of supervised release. 
DEAN SKELOS and ADAM SKELOS were found guilty by a unanimous jury on July 17, 2018, of conspiracy to commit extortion under color of official right, conspiracy to commit honest services wire fraud, three counts of extortion under color of official right, and three counts of soliciting and receiving bribes.  
            Mr. Khuzami praised the work of the Criminal Investigators of the United States Attorney's Office and the Federal Bureau of Investigation, who jointly conducted this investigation. 
            This case was prosecuted by the Office's Public Corruption Unit.  Assistant U.S. Attorneys Edward B. Diskant, Douglas S. Zolkind, and Thomas A. McKay are in charge of the prosecution.