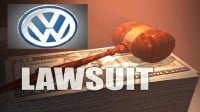 Volkswagen AG is facing one of the largest-ever U.K. class action lawsuits over the so-called 'Dieselgate' scandal, with almost 100,000 vehicle owners accusing VW of misleading them by installing emissions-cheating software that made it appear their diesel vehicles met environmental standards.
Slater & Gordon represent the owners and need to get past first base by finding that they belong in court.
They need the court to follow findings by regulators that led to vehicle recalls, and to rule that the software is a 'defeat device' that's banned under European law. Then the case would proceed to another trial to decide whether the owners have suffered a loss that they can claim. Volkswagen say the owners have suffered no loss.
Volkswagen has said about 11 million cars worldwide – and 1.2 million in Britain – were fitted with software that cheated diesel emissions tests designed to limit noxious car fumes and carbon dioxide (CO2) pollution.
VW has already faced numerous lawsuits after the use of the software designed to lower emissions when being tested was exposed by a U.S. probe in 2015. That led to a recall throughout Europe that cost the company €29 billion ($32 billion).
Regulators in the Netherlands and Italy have fined VW for use of the software, while a German probe last year fined the carmaker €1 billion.
Gareth Pope, a lawyer from Slater and Gordon said in a statement that VW had perpetrated an "environmental scandal" and had spent "millions of pounds denying the claims our clients bring."
Several such cases are proceeding in German courts, including a group action that involves thousands of Volkswagen drivers. They argue that they faced their vehicles being banned from the road and suffered losses as the resale value of their cars declined. Those cases hinge on whether the fact that a software update that made the cars legal to use invalidates the claim.
VW in Germany has for years argued that the software used here was legal.
That argument was tossed by Germany's top civil court in February in a rare a rebuke of VW's position.