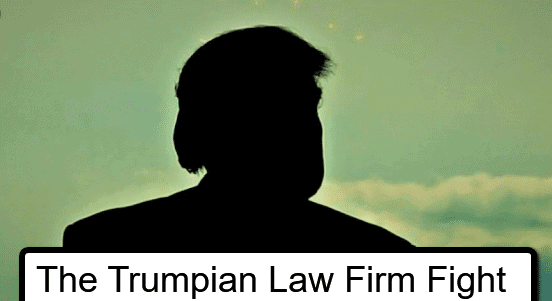 Dan Garner* The bitter battle between former Pierce Bainbridge Beck Price & Hecht partner Don Lewis and his former firm has Trump administration connections with attorneys and clients reflecting a 'Trumpian' character and flavor to the bitter, coast-to-coast battle.
Recent action has been with a California judge ruling that the case (for now at least) should stay in New York. Lewis's motion for sanctions was rejected on procedural grounds, not on the merits
But the battle is by no means over it would seem and the connections between the Trump administration and the legal protagonists are strong.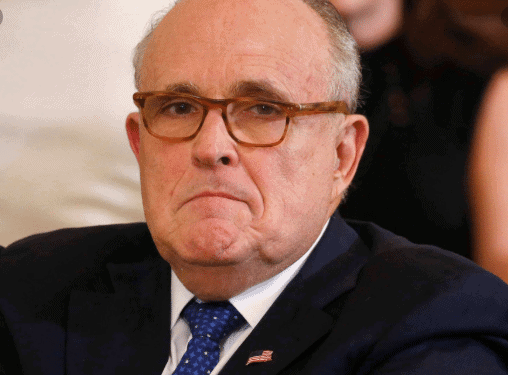 Pierce Bainbridge was recently retained by Trump personal attorney Rudy Giuliani in his recent Ukranian-related troubles and following the Trump impeachment probe.
The firm also represented former Trump foreign policy advisor and aide  George Papadopoulos who pleaded guilty to lying to the FBI.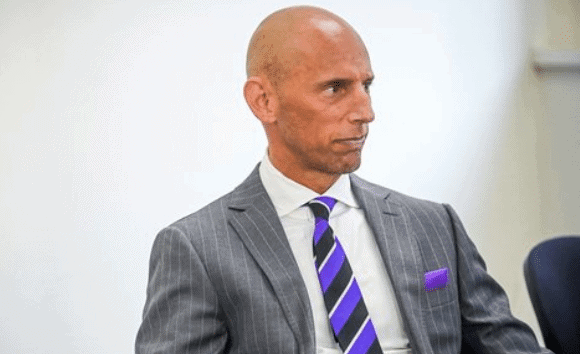 The firm has also retained Marc Mukasey, (left) a Donald Trump lawyer with obvious and close ties to the President (see below).
LawFuel has reported previously on the internecine warfare waged between the parties, which has also involved law firms Littler Mendelson and Putney Twombly as defendants.
The lawsuit in the Los Angeles court, reported in Law.com, was dismissed last week.
The LA Court tentatively dismissed one of three pending cases between Pierce Bainbridge Beck Price & Hecht and its former partner Lewis this week – an order since made final – concluding that Lewis' contacts with California weren't strong enough to establish personal jurisdiction.
Law.com has referred to the 'uproarious case' that has seen what the site refers to as "toxic allegations" of extortion and defamation to fraud, sexual misconduct and racial discrimination.
While Pierce Bainbridge has said Lewis was fired after violating the terms of his administrative leave while a staffer's claims against him were investigated, Lewis has counter punched with allegations that vehemently deny the claims and say he was fired for raising concerns about Pierce's use of funds lent to the firm by Pravati Capital.
The California decision does not by any means terminate matters as Lewis has two lawsuits in New York against Pierce Bainbridge, several partners and outside counsel.
"As I have said from day one, Pierce Bainbridge sought to blunt my truthful allegations of severe dysfunction and financial malfeasance at the firm. They tried to shoot the messenger, but they clearly missed," Don Lewis said.
In an email, Pierce defended the firm's firing of Lewis and described the dismissal as "purely procedural."
Lewis added, "While the dismissal was based on jurisdiction, the complaint consisted of a mountain of lies contradicted by contemporaneous e-mails, texts, and slacks, among other items.  As I have said from Day 1, Pierce Bainbridge sought to blunt my truthful allegations of severe dysfunction and financial malfeasance at the firm."  
"Problematic Behaviours"
Lewis allegations have gained strong support based on written messages from Pierce Bainbridge personnel eviscerating their boss on issues of drug use, financial dealings, alcoholism, and mental stability; Pierce even reportedly slept on the airport floor in the city closest to where he resides, and then announced this to the firm and requested a lint brush.  
For his part, the Pierce Bainbridge Global Managing Partner John Pierce was unmoved by the recent decision, continuing to trumpet his 'best law firm in the world' mantra.  
"We are looking forward to putting Don Lewis—and all his problematic behaviors—behind us in the ongoing NY cases, so that we may move on and focus on what's most important to us: continuing our job building the absolute best law firm this world has ever seen."
Pierce's rhetoric is consistent about the firm and its prospects as a world-leading litigation powerhouse. It now finds itself having to fight off one of its own in a battle that has been taken to them by a persistent challenger in former partner Don Lewis.
Partner Suggesting Illicit Financial Activity
The two complaints recently filed by Lewis in New York, including his recent request to "unseal" certain filing and obtain a final investigatory report, added another layer of intrigue. 
New alleged items from partner Christopher N. LaVigne, a white-collar criminal attorney, paint a damning picture of Pierce's handling of firm finances.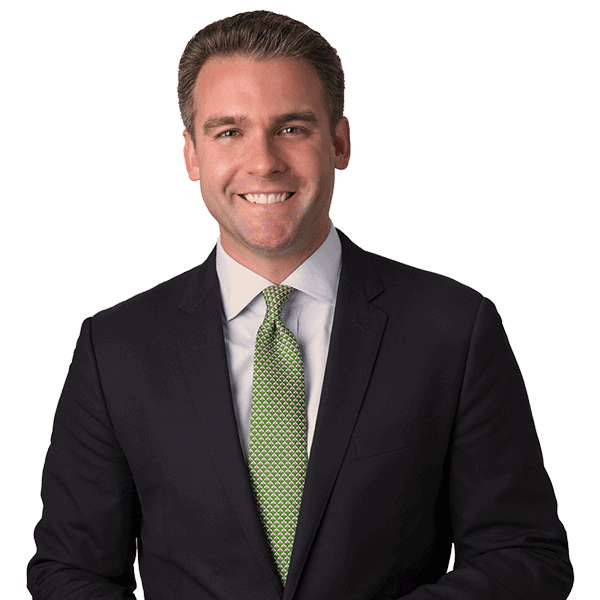 Among the comments made in the papers by LaVigne –

LaVigne – in writing – accused Pierce of stealing money from the firm's litigation funder: "Basically john took Pravati's money and fu*king spent all of it [sic]." (Pravati Capital LLC is the litigation finance company that initially financially backed PB and declared a $9.1 million default after two years.)
LaVigne, subsequent to Lewis' illegal expulsion, in violation of the firm's gag order vis a vis communications with Lewis, remarked: "John hired a bunch of white-collar lawyers, he thinks they'll help when the Feds come knocking; they will be the first one's out the door." 
Is Pierce Bainbridge a Trumpian Law Firm?

An article in the American Lawyer about counsel for Pierce Bainbridge in the New York actions, Mukasey, Sklaroff and Frenchman LLP, observed the connections between Pierce Bainbridge and the Trump camp.
In speaking of firm leader Marc Mukasey, the article reported the Mukasey links.  

  "Mukasey's ties to the Trump camp are strong. It's not front and center on the firm's website, but do an internet search of Mukasey's name, and the cases where he's represented the president or his real estate business rise above the rest. He is particularly close with Rudy Giuliani, another lawyer to Trump."

Mukasey, son of former Attorney General Michael Mukasey, hit the headlines in May over his representation of both former Navy SEAL Edward Gallagher, charged with war crimes, and also for DOnald Trump in his efforts to prevent Deutsche Bank and Capital One from turning over his financial records to congressional investigators.
Mukasey unequivocally states that he is not running a "Republican firm". We have already reported his apparent close relationship with Giuliani, a new Pierce Bainbridge client. 
Pierce Bainbridge also represented George Papadopolous, a Trump ally who went to prison in connection with the Mueller probe. 
Another article in the same publication says:  

"Meanwhile, Pierce, a big fan of President Donald Trump, has been courting Giuliani for some time, with two sources telling Law.com that Pierce had even sought to have Giuliani join his firm as a partner."
Pierce's Trumpian Style
Pierce wrote in Trumpian-type terms on LinkedIn:
"Now I know what the POTUS feels like dealing with Fake News!!" I
Pierce attacked a young female reporter from Bloomberg Big Business Law when speaking about the firm's relationship with litigation funders, although he did not mention the $9.1 million Pravati loan default that was declared two months earlier.
Certainly Pierce Bainbridge has faced Trump-style allegations of everything from misogyny and corruption to oulandish claims and dishonesty.  Adding to the drama, are public accusations levied at PB partner Eric Creizman, the attorney leading the firm's Giuliani representation.  
In a thread on Twitter, Creizman was taken to task for allegedly unsavory clients; it was a few months before he closed Creizman LLC to join Pierce Bainbridge (in July 2018).  In responding to his antagonist, Creizman exclaimed: "We won't represent Trump, but we also won't represent press-seeking possible former lovers of the president"  in what appears to be a jibe at pornography star Stormy Daniels; a frequent target of the Trump's scorn.  
Separately, a recent article is titled "Giuliani Lawyer Advised Company Shut Down Over Fraud Complaints," Creizman is the lawyer referenced.  In both the Twitter thread and the article about the company — World Patent Marketing — Creizman denies any foul play.  
The Mukasey Firm represents Trump and John Pierce, who according to public records amassed $1.5 million dollars in tax liens from June 2017 through to around March 2019, a well as dealing with alimony payments of $21,000 per month.
With apparently little-to-no income from trial victories in over a year, six partners having recently abandoned Team Pierce, news of a declared $9.1 million default, and reports of "loan agreements" emerging with some regularity leave some significant questions about the firm's operations.
ReFuel with the top law news weekly that's fun to read