Conservative Lawyers Blast Trump's Racist Tweets

A Conservative group of leading lawyers has castigated the 'abhorrent behavior' of President Trump and the failure of the Republican Caucus to make comment.
Checks and Balances was founded on the principles of rule of law, the power of truth, the independence of the judiciary and the criminal justice system, the essential importance of the safeguards provided by congressional authority and a free press, and the necessity of civil discourse.
President Trump's racist tweets over the weekend are a rejection of those Founding principles of our Nation.
As a Presidential candidate, Donald Trump's campaign was rooted in birtherism, the bigoted lie that President Obama was not really born in the United States.  As President, Donald Trump has embraced racism and xenophobia.  He has condemned judges based on their ethnicity; he has characterized foreign nations as "shithole" countries; and he has lauded white supremacists as "very fine" people.  His tweets this weekend urging elected representatives to "go back" where they came from are of a piece with his nativist nature and at odds with the uplifting promise of our Nation.  They should be rejected by every American.
As conservatives or libertarians, we have profound disagreements with the policies advocated by the Congressional targets of Trump's tweets.  But they, like all Americans, are entitled to be treated with respect.  We refuse to share the silence of most of the Republican caucus in Congress, whose timidity in the face of this abhorrent behavior reflects the debased politics of the day. We add our voices to those who condemn the President's ignorant racist nature and urge all citizens of whatever party to join us in rejecting a politics of division that is an affront to the rule of law.
Donald Ayer
John B. Bellinger, III
George T. Conway III
Carrie Cordero
Charles Fried
Stuart Gerson
Peter Keisler
Marisa Maleck
Trevor Potter
Alan Charles Raul
Paul Rosenzweig
Andrew Sagor
Ilya Somin
Each of us speaks and acts solely in our individual capacities, and our views should not be attributed to any organization we may be affiliated with.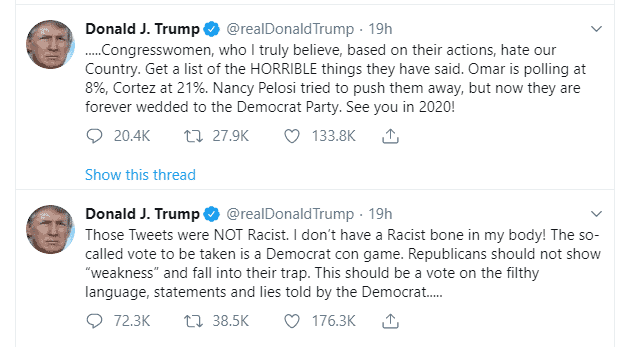 ReFuel with the top law news weekly that's fun to read