The charges against former president Donald Trump from the Fulton County District Attorney Fani Willis included 18 associates of Trump, of who six were attorneys, the most well known being former New York Governor Rudy Giuliani. Who are the indicted attorneys?
Donald Trump and 18 other associates were charged Monday in Georgia as part of a sweeping indictment alleging they schemed to illegally overturn his 2020 election loss and stop the peaceful transition of power.
Advertisement
Those charged in Monday's indictment face a slew of charges, including racketeering, violating the oath of a public officer, forgery, false statements and other offenses. Prosecutors say they must all surrender to authorities by Aug. 25.
Here are the lawyers associated with Trump who were included in the charging documents:
Rudy Giuliani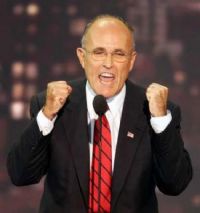 Giuliani hardly needs an introduction given his prominence both before Trump's election and in the various events and dramas that occurred following his election, re-election, impeachment hearings and lost election.
The Georgia indictment references issues with Giuliani arising from several legislative hearings in Georgia in December 2020. A former New York mayor he also worked energetically promoting the various allegation of election fraud in the state.
He is alleged to have been heavily involved in a plan to have 16 Georgia Republicans serve as fake electors who also worked towards falsely swearing that Trump had won the 2020 presidential election and declaring themselves the state's "duly elected and qualified" electors.
John Eastman
A former dean of Chapman University law school in Southern California, John Eastman, one of Trump's lawyers, was deeply involved in some of his efforts to remain in power after the 2020 election.
He wrote a memo arguing that Trump could remain in power if then-Vice President Mike Pence overturned the results of the election during a joint session of Congress where electoral votes would be counted. That plan included putting in place a slate of "alternate" electors in seven battleground states, including Georgia, who would falsely certify that Trump had won their states.
Sidney Powell
Sidney Powell, a lawyer and unwavering supporter of Donald Trump, was a member of a gathering that took place at the South Carolina residence of Lin Wood another conservative attorney in the Trump camp.
This meeting occurred in November 2020 with the stated intention of exploring avenues to influence the outcomes of the November 2020 elections, both in Georgia and other locations according to the Georgia prosecution.
Lin Wood disclosed that Powell approached him with a request to assist in identifying Georgia residents who could serve as plaintiffs in legal actions aimed at challenging the election results within the state.
Subpoenas related to an unrelated lawsuit, emails and documents have come to light that establish Powell's involvement in coordinating the dispatch of a team specializing in computer forensics.
The team was dispatched to rural Coffee County in January 2021 with the alleged view to duplicate data and software from election equipment located in that region.
Kenneth Chesebro
According to prosecutors, Kenneth Chesebro, a lawyer, collaborated with members of the Georgia Republican Party in the period following the November 2020 election under the guidance of Trump's campaign.
Chesebro was involved in organizing and carrying out a strategy aimed at persuading 16 Georgia Republicans to collectively endorse a certificate containing untrue information, asserting that Trump had won.
Depicted by prosecutors in the Atlanta area, Chesebro is depicted as having a pivotal role not only in orchestrating the assembly of fraudulent electors but also in devising a "plan to disrupt and postpone the joint session of Congress on January 6, 2021."
He faces seven serious charges, encompassing offenses like conspiring to engage in forgery and conspiring to submit deceitful records. Additionally, he is accused of violating an anti-racketeering statute that was initially designed to dismantle organized crime syndicates.
Jenna Ellis
Jenna Ellis is a conservative American attorney, constitutional law expert, and former legal adviser for Donald Trump and his 2020 re-election campaign. Ellis didn't deliver any testimony at a state Senate hearing where Trump allies claimed voter fraud handed the election to Biden (source: WSB-TV, 11Alive).
Ellis appeared with Rudy Giuliani at a Dec. 3, 2020, hearing at the Georgia Capitol during which false allegations of election fraud were made. Jenna Ellis also wrote at least two memos to Trump on legal issues and his attorneys advising that Pence should "disregard certified electoral college votes from Georgia and other purportedly 'contested' states" when Congress met to certify the election results on Jan. 6, 2021, prosecutors have said.
Ray Smith
A Georgia-based lawyer, Ray Smith was involved in multiple lawsuits challenging the results of the 2020 election in Georgia. He also gathered witnesses to provide testimony before Georgia legislative subcommittee hearings held in December 2020 on alleged issues with the state's election.
Smith appeared before a state Senate subcommittee investigating the various claims of voter fraud prior to the election. In the course of providing his testimony he claimed that more than 130,000 illegal votes had been cast during the 2020 election. He also gave evidence that 2,506 felons voted along with 10,315 individuals who were deceased.
Robert Cheeley
A Georgia lawyer, Robert Cheeley presented video clips to legislators of election workers at the State Farm Arena in Atlanta and alleged the workers were counting votes twice or sometimes three times. He spoke to the lawmakers after Giuliani.
Robert Cheeley presented video clips of election workers handling ballots at the State Farm Arena in downtown Atlanta. Mr. Cheeley spent 15 minutes laying out specious assertions that the workers were double- and triple-counting votes, saying their actions "should shock the conscience of every red blooded Georgian" and likening what he said had happened to the 1941 attack on Pearl Harbor.
His comments mostly flew under the radar at the time, overshadowed by the election fraud claims made by Giuliani, who was then Trump's personal lawyer, and by other higher-profile figures.
The charges will further unravel the highly politicized US election campaign with Trump as the Republican front runner and with the ongoing issues and infighting over 'Deep State' involvement and related Trumpist claims, backed at the same time by the ongoing accusations against President Biden and son Hunter's claims of corruption and self-enrichment.