Who Is 'Giant Killer' Willie E Gary?
Willie E. Gary was famous as a leading lawyer before the movie 'The Burial', starring Jamie Fox was aired on Amazon. Gary, the son of a sharecropper, is known for taking on some of the most prominent corporations in the United States on behalf of his clients.
One of the richest and most successful lawyers in America, with a fleet of planes and a reputation as a 'Giant Killer' in Court, Willie E Gary has overcome racial discrimination and setbacks to become a winner of over 150 cases with $1 million+ verdicts and an overall total of over $30 billion.
'The Burial' movie has brought Gary's career to light in another way and Gary was sure that Jamie Foxx was the ideal actor to play the role because of overlaps in their two stories.
Their similarities included being raised in the church, excelling in football and creating lives that defied childhood expectations. For Gary, that meant transforming from a Georgia sharecropper's son to multimillionaire lawyer.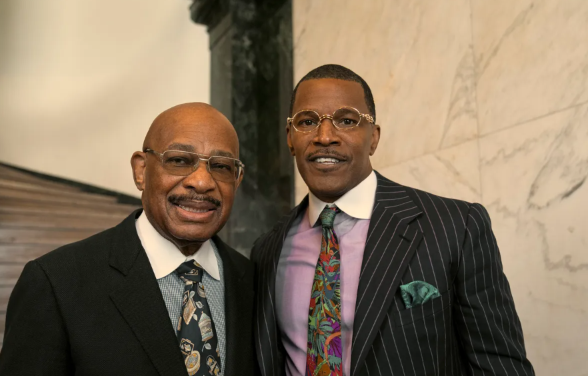 'The Burial' tells the story of a case Gary won in 1995, when Jeremiah O'Keefe (Tommy Lee Jones), the owner of a chain of Mississippi funeral homes, hired him to sue a Canadian funeral industry behemoth, The Loewen Group, for breach of contract.
In a long-odds case, the Lowen Group's CEO indicated he wanted to buy O'Keefe's homes given the financial difficulties the latter faced. They had an agreement but it fell through and eventually O'Keefe decided that instead of facing almost certain ruin for his multi-generation family business he would seek revenge, hiring the young Gary to issue the proceedings.
Gary not only won the case but he also identified the racism behind Loewen's business, obtaining a $500 million verdict that was eventually settled for $129 million with Loewen Group eventually filing for bankruptcy. wen Group eventually filed for bankruptcy.
Gary has earned the reputation as "The Giant Killer" for his tenacity in fighting high-profile cases and securing large jury awards and settlements, some of which are valued in excess of $30 billion source.
Gary is currently a partner in the law firm, Gary, Williams, Parenti, Watson, Gary & Gillespie, PLLC, based in Stuart, Florida.

He is an influential figure in the legal world, and his dedication to his work has not gone unnoticed. Among his many accolades, Willie Gary is a recipient of the prestigious 2023 Joseph R. Biden Lifetime Achievement Award and the Presidential Volunteer Service source.
Willie E. Gary Early Life
Willie E. Gary was born on July 12, 1947 in Eastman, Georgia. He is the son of Turner, a sharecropper, and Mary Gary. Growing up in a humble background, Gary worked hard to achieve success in life. His athleticism and determination earned him a football scholarship to attend Shaw University, where he graduated in 1971.
After completing his undergraduate studies, Gary went on to pursue law at North Carolina Central University School of Law, where he earned his Juris Doctor degree. This solid educational foundation laid the groundwork for his future career as a prominent trial lawyer.
During his time in law school, Gary honed his legal skills and knowledge, which would later contribute to his reputation as a tenacious and successful attorney. Through years of hard work and persistence, he built a law firm that would go on to handle high-profile cases, earning millions in settlements and verdicts for his clients.
Willie E Gary Successful Cases + 'The Burial' Case and Further Fame
The Burial case victory brought Gary a new level of fame, with magazine features and a "60 Minutes" profile.
After the verdict, Loewen told The New York Times, "I had at least a dozen lawyers, not one of them flagged the danger of a Southern jury. But, to be fair, Willie Gary is a personality that is unique, and so I think our legal counsel was blindsided too."
Gary appeared briefly in 'The Burial', but the movie generated a deal of controversy too with some of Gary's former clients
Career Path
Willie E. Gary began his legal career after graduating from North Carolina Central University School of Law. Over the years, he has earned a reputation as one of the most successful and wealthiest trial lawyers in the country.
Gary's unique approach to representing clients has led to numerous victories, often and breaking records. When he represented O'Keefe against the Loewen Group, he knew that a majority black jury and Judge James E. Graves, Jr., would be influential in the trial's outcome.
Awards and Recognitions
Gary has received numerous accolades for his work. He was recognized by the General Assembly of the State of South Carolina as one of the United States' most respected and accomplished lawyers.
In 2019, Gary was awarded the Spirit of Excellence award by the American Bar Association. This award was presented to him at Caesar's Palace in Las Vegas, further solidifying his reputation as a top-tier lawyer.
In 2023, Gary became a recipient of the Joseph R. Biden Lifetime Achievement Award and the Presidential Volunteer Service. These prestigious honors celebrate his dedication and contributions to the legal profession throughout his career.
He has won over 150 cases valued in excess of $1 million each, including a famous case where he secured a $500 million settlement for a white funeral home operator.
He won a $240 million verdict when he represented All Pro Sports against Disney after All Pro Sports accused the company of stealing the idea for the ESPN Wide World of Sports Complex.
In 2005 he had Anheuser-Busch to agree to pay the family of baseball legend Roger Maris $120 million to settle a defamation case.
He won $23 billion in a case against the R. J. Reynolds Tobacco Company due to the 1996 death of Florida's Michael Johnson from lung cancer, but the verdict was overturned in 2019 after the company's attorneys appealed the ruling.
Gary's achievements have earned him the nickname "The Giant Killer," as his consistent success in securing large jury awards and settlements demonstrates his dedication to fighting for justice on behalf of his clients.
Legal Controversies and Criticisms
Throughout his career, Willie E. Gary has faced a fair share of legal controversies and criticisms. While he achieved outstanding success and gained notoriety for taking on major corporations like The Walt Disney Co., some ex-clients have spoken out against the celebrated attorney.
In particular, some of his former clients accused Gary of negligent and unethical practices, stating he mishandled their cases, leading to financial loss. These allegations certainly have taken some sheen off his stellar reputation.
As an attorney involved in high-profile cases, it is not uncommon for Willie E. Gary to face challenges and controversies.
His has been a legal career that has skyrocketed with many victories but not without the occasional controversy, attracting both admiration and criticism.
Philanthropy and Controversy
Willie E. Gary has also made significant commitment to giving back to the community has resulted in numerous charitable endeavors and initiatives. But he has also faced controversy.
One philanthropic cause close to his heart is education.
He has been instrumental in providing scholarships for students in need, paving the way for them to achieve their educational goals. Furthermore, Gary and his wife have established the Gary Foundation, which supports various educational programs and mentorship initiatives, focusing on the development of tomorrow's leaders.
He has demonstrated a strong commitment to the welfare of his local community. He has played a significant role in supporting healthcare initiatives, funding healthcare facilities, and providing resources to underprivileged communities in need of medical assistance.
His philanthropic endeavors also extend to the realm of social issues. Gary has championed causes related to civil rights, economic equality, and community development, utilizing his financial resources and influence to drive positive change.
Among the controversies have been claims that he is a 'client killer' rather than a 'giant killer' with various allegations regarding his professional behaviour.
In 2008 the ABA reported on a rape claim made unsuccessfully against him.
In TheClientKiller website, Marietta Goodman, former Gary client and lead plaintiff in a racial discrimination lawsuit against Coca-Cola, in a letter to The Florida Bar on March 25, 2014 wrote that Gary "is nothing less than a predator that preys on those who have already been victimized and harmed. They place their faith and trust in him for justice. He then abuses that trust to enrich himself…Mr. Gary is nothing short of a criminal."
A jurisdictional argument in 2018 saved Gary's firm from claims the firm had tanked an antitrust and discrimination lawsuit, as Reuters reported, and
Personal Life
Willie E. Gary, a renowned lawyer, currently resides in Stuart, Florida, with his wife, Gloria, and their four children: Kenneth, Sekou, Kobe, and Ali1. Kenneth has taken up leadership roles within the family businesses, serving as the president and CEO of The Gary Foundation and the family's real estate firm, Gary Enterprises2.
Gary has had a long and successful career in law, earning a reputation as a skilled and determined attorney. His personal experiences have fueled his dedication to justice and have likely impacted his life beyond the courtroom. Notably, early in his career, he encountered racial discrimination when searching for an apartment.
Although the incident is portrayed differently in the movie "The Burial," it is said to have occurred after Gary graduated from law school. His response to this act of discrimination further highlights his commitment to fighting for equal rights and opportunities.
Apart from his legal work, Gary is actively involved in various professional associations. He is a member of the American Bar Association, The Florida Bar, National Bar Association, and NAACP. His participation in these organizations demonstrates his dedication to the legal profession and his continued efforts to advance the rights of those who seek justice.
He is also committed to hard work and the profession he loves. As he said in a USA Today interview: "I was born into the harsh fields of Georgia and Florida, so I'm no stranger to hard work," he says. "I don't think I'd ever want to walk away from the chance to help a family get something they feel they deserve. I don't know what I'd do if I couldn't practice law."
How Much Is Willie E. Gary Worth?
It's a question that is often asked of successful attorneys and according to Celebrity Net Worth website he is worth $50 million, although the assets he has accumulated, principally in real estate, indicate that he could well be worth double that amount – $100 million.
Willie E. Gary, an American lawyer born on July 12, 1947, in Eastman, Georgia, has earned the reputation of a "Giant Killer" in the legal profession. He rose to prominence by taking down some of the most well-known corporate giants in the United States on behalf of his clients. Throughout his career, Gary has won over 150 cases, each valued at over $1 million.
Willie's journey in the legal profession started with his humble beginnings, as the son of a sharecropper. He attended Shaw University on a football scholarship, where he graduated in 1971. Later, he earned his law degree from North Carolina Central University School of Law.
Besides his accomplishments in the courtroom, Gary's success has also translated into substantial wealth. He is listed as one of the richest lawyers in the world and owns two private jets, the latest being a Boeing 737 named Wings of Justice II.